Marine Corps Lets Fully Vaccinated Marines Stop Wearing Masks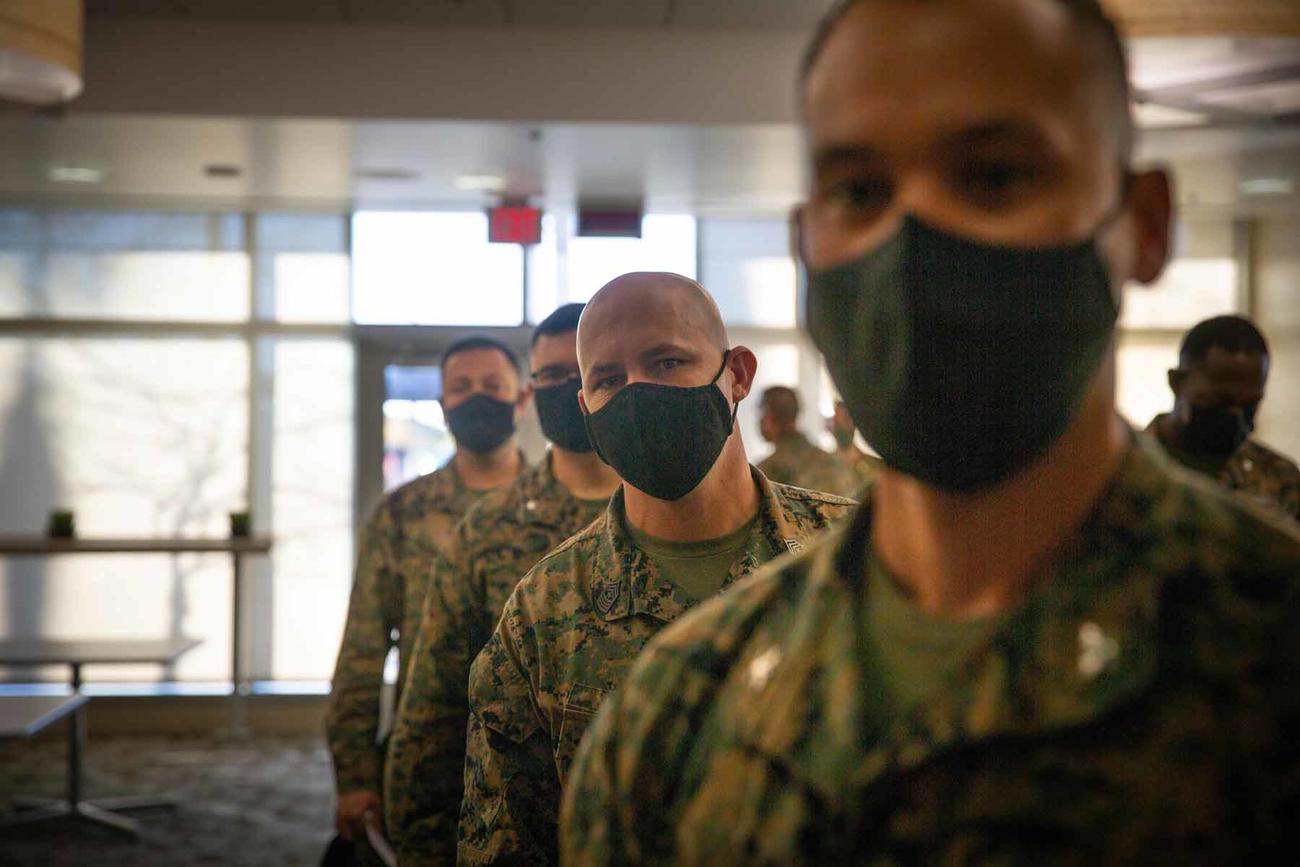 The Marine Corps announced on Friday that Marines who are fully vaccinated against COVID-19 no longer need to wear a mask indoors or outside.
The news follows a broader Defense Department memo on May 14 that lifted the mask mandate for all staff and service members.
Friday's message states that Marines who are not fully vaccinated must wear a mask in both indoor and outdoor spaces, adding that "Commanders have the authority to verify [Marines'] vaccination status" and "unmasked Service members must be prepared to show proof of vaccination status."
Read Next: Soldier Convicted over Role in Fort Bragg Sham Marriage Ring
The message also warns that "service members and civilian employees who misrepresent their vaccination status" could face punishment.
The policy change follows a DoD announcement that the Marine Corps is the least vaccinated branch of the armed forces. Only 58% of the service's active-duty personnel have received at least one vaccine dose. The Navy has the highest vaccination rate at 77%. The COVID-19 vaccine is currently optional for service members and DoD employees, though part of the story behind the branch's low numbers is that Marines have been rejecting the vaccine more than any other branch, according to data Military.com obtained in April. However, the Pentagon has been considering making the vaccinations mandatory.
The Navy dropped its mask requirement for fully vaccinated personnel on May 14.
Some Marine Corps units have attempted to address lagging vaccination rates with incentive programs. Leaders at II Marine Expeditionary Force offered units a four-day weekend if they met a 65% immunization threshold back in June.
Mask mandates had been in place for the military since February, when Defense Secretary Lloyd Austin III issued a sweeping order.
— Konstantin Toropin can be reached at konstantin.toropin@military.com. Follow him on Twitter @ktoropin.
Related: Marine Corps the Least Vaccinated Military Service, New Data Shows
© Copyright 2021 Military.com. All rights reserved. This material may not be published, broadcast, rewritten or redistributed.