'A Class Act:' Former Sailor, Marine and Senator John Warner Laid to Rest at Arlington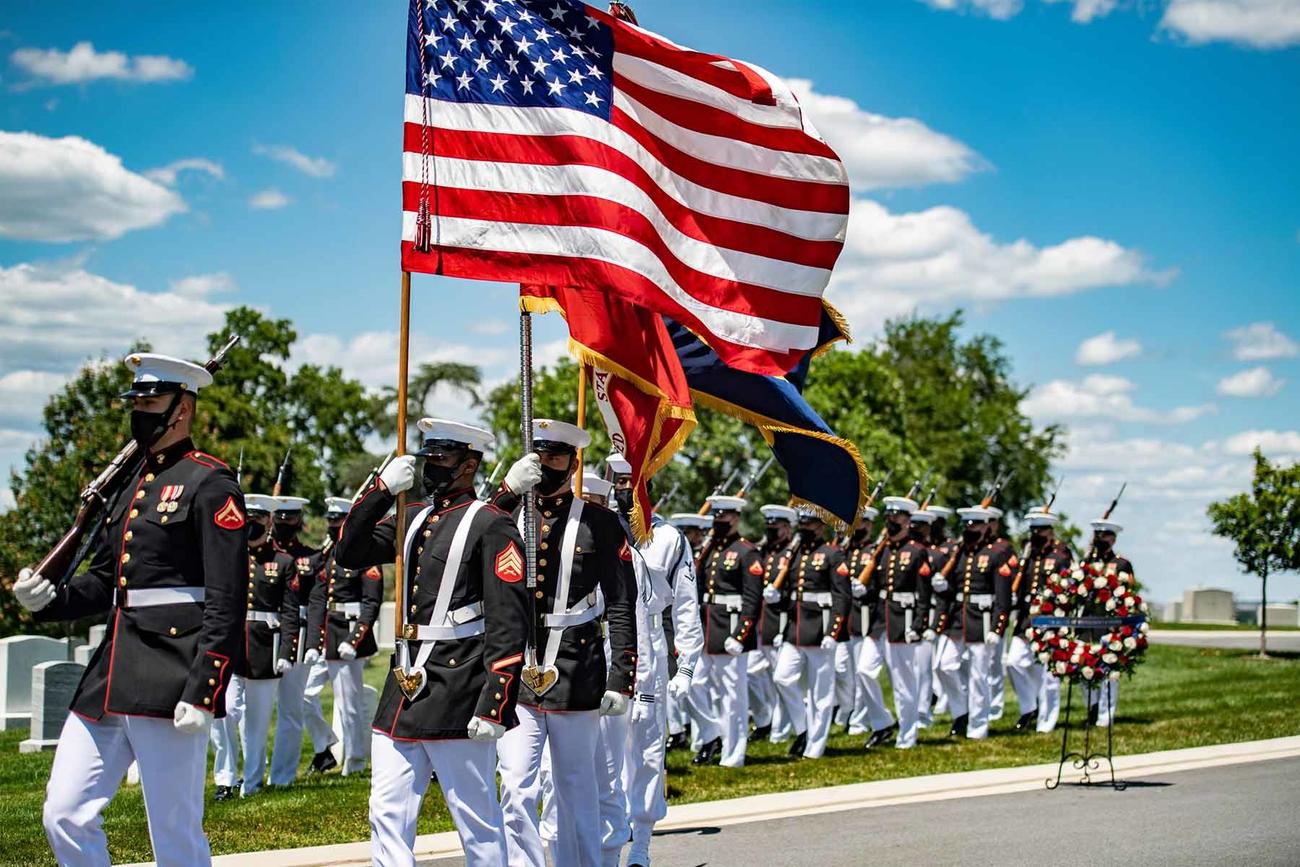 Former Navy Secretary and Virginia Sen. John Warner was memorialized at Washington's National Cathedral on Wednesday and laid to rest in Arlington National Cemetery on a hill near his parents' graves.
Warner, who died May 25 at age 94, was remembered by President Joe Biden, who served alongside him in the Senate, and Virginia's two senators as a "class act" who played a pivotal role in military affairs and was a consensus builder in Congress.
"He understood that democracy is more than a form of government. He understood that democracy was a way of being and … that empathy is the fuel of democracy, the willingness to see each other as opponents, not as enemies, and above all to each other as Americans, even when we disagree," Biden said in his eulogy.
Read Next: White House Will Evacuate Afghans Who Helped US to Third Country for Visa Processing
Warner was born in Washington, D.C., where he was raised by his parents, John William Warner, a surgeon who served in the Army Medical Corps in France in World War I, and Martha Stuart Warner, who served in the Red Cross during the war.
He enlisted in the Navy in January 1945, reaching the rank of petty officer third class. After leaving the service, he attended Washington and Lee University, graduating in 1949, and then entered law school at the University of Virginia. But he left his studies to join the Marine Corps at the start of the Korean War in 1950 and served as a ground maintenance officer in Korea.
He reached the rank of captain in the Marine Corps Reserve and finished his law studies in 1953, becoming an assistant U.S. attorney in 1956, followed by private practice.
Warner became under secretary of the Navy in 1969; three years later, he was named the 61st secretary of the Navy. During that time, he participated in the Law of the Sea Talks and negotiated an agreement with the Soviet Union to reduce maritime incidents between the U.S. and the USSR.
He was elected to the Senate in 1978, where he served for more than 30 years, chairing the Senate Armed Services Committee twice and the Senate Rules Committee.
"He earned the deepest respect from across the political spectrum for his honesty, tenacity, independent thinking, and strong adherence to Constitutional ideals," Commandant Gen. David Berger said in a Marine Corps-wide message Tuesday. "He spent a lifetime serving others, working tirelessly to make our nation better, and giving back to the country and community he held dear."
While serving as chair of the Armed Services committee, Warner supported the Iraq War, rebuffing calls for the withdrawal of U.S. service members in 2007. But later, he opposed the surge of additional troops, saying he believed the country had met its commitment to Iraq.
He had three children by his first wife, Catherine Mellon; they divorced in 1973. Later, Warner was famously married to actress Elizabeth Taylor for nearly six years. The couple was known to throw lavish parties and fox hunts at their farm near Middleburg, Virginia, in the late 1970s and early 1980s.
He married Jeanne Vander Myde in 2003 and left the Senate in 2009 at age 81.
"There isn't a sailor, soldier, airman or Marine in Virginia or anywhere in the country who doesn't owe a debt of gratitude to Sen. Warner," said Sen. Mark Warner, a Democrat who is no relation but earned the elder Warner's political support despite belonging to different parties.
Warner was buried at 2 p.m. Wednesday in Section 4 of Arlington National Cemetery, in a location not far from the Coast Guard Memorial, a spot in close proximity to Joint Base Fort Myer-Henderson Hall, the Air Force Memorial and the Pentagon.
Mark Warner said that when he faces tough decisions, he often asks himself, "What would John Warner do?"
"That's who John was, a class act," he said. "He was a leader of substance in the Senate and the country. … May this American hero rest in peace."
— Patricia Kime can be reached at Patricia.Kime@Monster.com. Follow her on Twitter @patriciakime.
Related: Korean War POW Will Finally Be Buried in Arlington National Cemetery
© Copyright 2021 Military.com. All rights reserved. This material may not be published, broadcast, rewritten or redistributed.