Army General Who Allowed Helicopter to Fly Low Over DC Protesters Failed to Give Clear Orders, IG Finds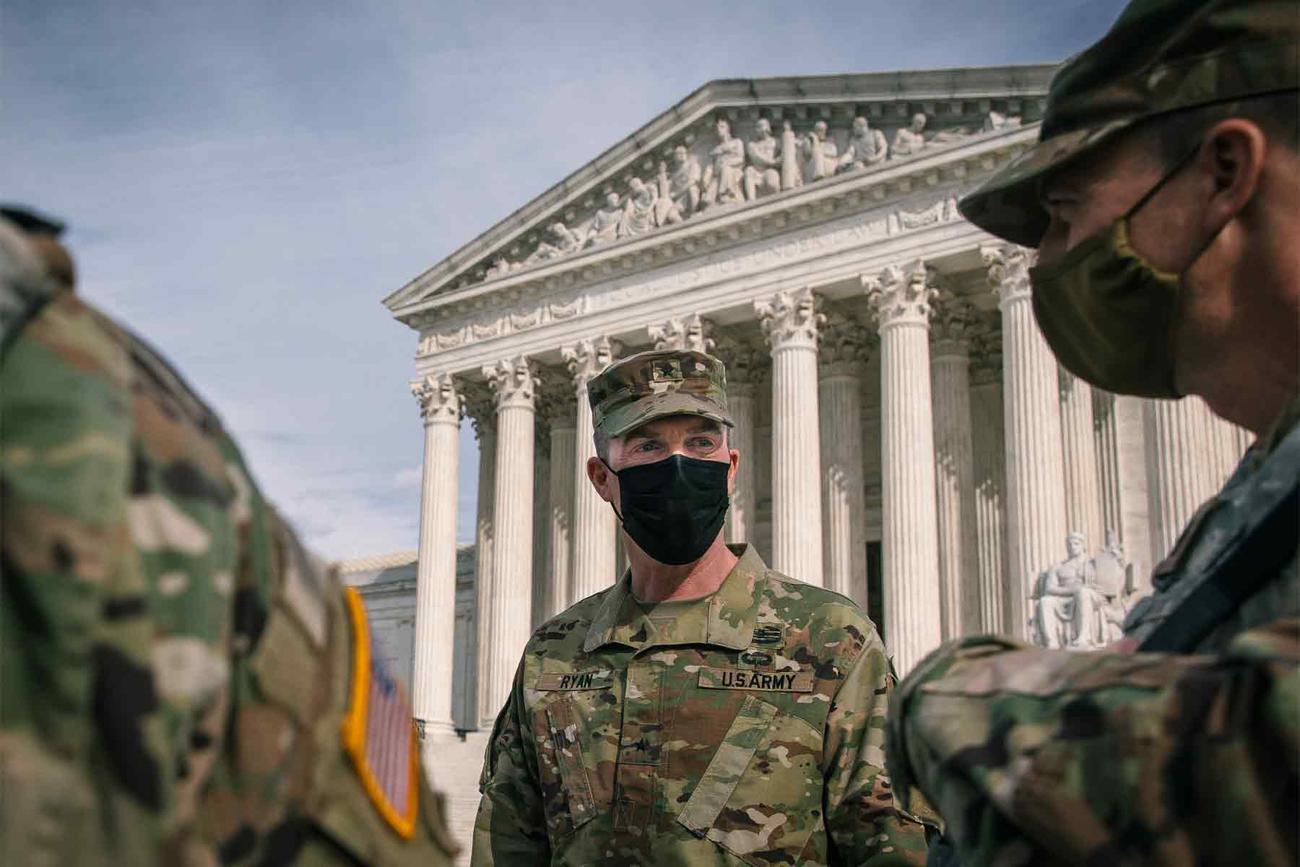 An explosive new report from the Pentagon's watchdog agency has found that a D.C. National Guard general who allowed a medevac helicopter to fly low over terrified civilian protesters acted in accordance with orders that went as high up as the president of the United States, but also failed to provide clear and consistent direction on the mission.
The June 1, 2020 incident involved a UH-72 Lakota medical helicopter that hovered low enough to send those on the ground fleeing from the rotorwash. The helicopter had been deployed as part of Guard efforts to respond to Washington, D.C. protests in the wake of George Floyd's death. An Army 15-6 fact-finding investigation commissioned by Maj. Gen. William Walker, commander of the D.C. Guard, found fault with some aspects of the helicopter mission, but stopped short of calling the crew's actions misconduct.
Read Next: The Air Force's New PT Test Is Coming in July. Here's What We Know
The new report, released Thursday by the Defense Department Inspector General, contradicts some of the Army's negative findings. Brig. Gen. Robert Ryan, the head of the D.C. Guard's Joint Task Force on Civil Disturbance, followed a mandate handed down from then-President Donald Trump, Defense Secretary Mark Esper and Army Secretary Ryan McCarthy to use all assets available to control the protests, the IG found.
The report "found no supporting evidence" for the Army investigation's initial conclusion that deploying medevac helicopters violated Army regulations, in light of the broad-edged orders from the chain of command.
"Although [the D.C. National Guard's contingency plans] did not specifically address using aviation assets, the use of DCNG helicopters was reasonable based on: the emergency nature of the situation; direction from President Trump and Secretary Esper as relayed through Secretary of the Army McCarthy to [Walker] and [Ryan] to 'flood the zone' and to 'use everything available' to protect 'federal property and symbols,'" the new report found.
This directive, coupled with the D.C. Guard's lack of preparation, proved a recipe for confusion.
"Prior to the night of June 1, 2020, the DCNG did not have a prepared plan to maintain command and control of aviation assets used to support civil disturbance operations," the report stated. "The broad direction from [Trump], and the rapid pace of events on the night of June 1, 2020, focused the flight operations crew's attention at the Army Aviation Support Facility and Joint Operations Center on executing the mission and not on procedures to record, evaluate, review, and assign individual requests to the DCNG from civil authorities for using helicopters."
It added that the D.C. Guard's state Army aviation officer had advised Ryan that helicopters, including medevac assets, were available to support the mission.
However, the report does contain a strong indictment of leadership and training failures that the incident brought to light.
"The evidence that we reviewed also indicated that [Ryan] did not provide clear and consistent direction and mission guidance to DCNG aviators on the night of June 1, 2020, did not provide his clear and consistent commander's intent to include key tasks and parameters for the operation, and did not provide his Commander's Critical Information Requirements (CCIR) guidance or a desired end state," it found. "Although these matters do not pertain to a potential issue of misconduct, we recommend that [Walker] review [Ryan's] actions as matters of performance."
The low flight, which was captured on video by protesters, became a black eye for the Guard as many called it an example of undue use of military force to intimidate civilians. An April briefing on the Army's 15-6 investigation painted a picture of an unclear and disjointed mission in which crews were told, "fly low, be loud" over the crowds.
"Some crews thought they were to circle and observe, and some crews thought they were supposed to provide that obvious presence," an unidentified Army official told reporters during the briefing.
The IG investigation did note that no regulation or policy existed regarding the Guard's use of helicopters in civil disturbance operations; nor did any training or procedures. The DC guard should create rules regarding use of force with aviation assets, and develop training for the use of air during these specific missions, it found.
"Clearly, the images of a UH-72A, particularly one marked with a Red Cross symbol, hovering over a crowd may have raised questions and concerns; however, [the Army Inspector General] found this maneuver did not violate plans or regulations in place at the time, but identified an area for improvement and clarifications in Army policy," the report added. "Our investigation also found potential systemic issues at Army, [National Guard Bureau], and DCNG levels that should be reviewed in light of the potential for further employment of Army aviation assets to support [civil disturbance] missions."
The IG also called on the Defense Department to update and clarify guidance regarding "domestic surveillance." While the D.C. Guard's approval letter from the Pentagon for the civil disturbance mission prohibited domestic surveillance, it never defined the term or described which activities were included in the prohibition.
— Hope Hodge Seck can be reached at hope.seck@military.com. Follow her on Twitter at @hopeseck.
Related: Soldiers Involved in Flying Helicopter Low Over DC Protesters Have Been Disciplined, Army Says
© Copyright 2021 Military.com. All rights reserved. This material may not be published, broadcast, rewritten or redistributed.