Army Punishes 15 Leaders, Including 2-Star General, Over Botched SHARP Program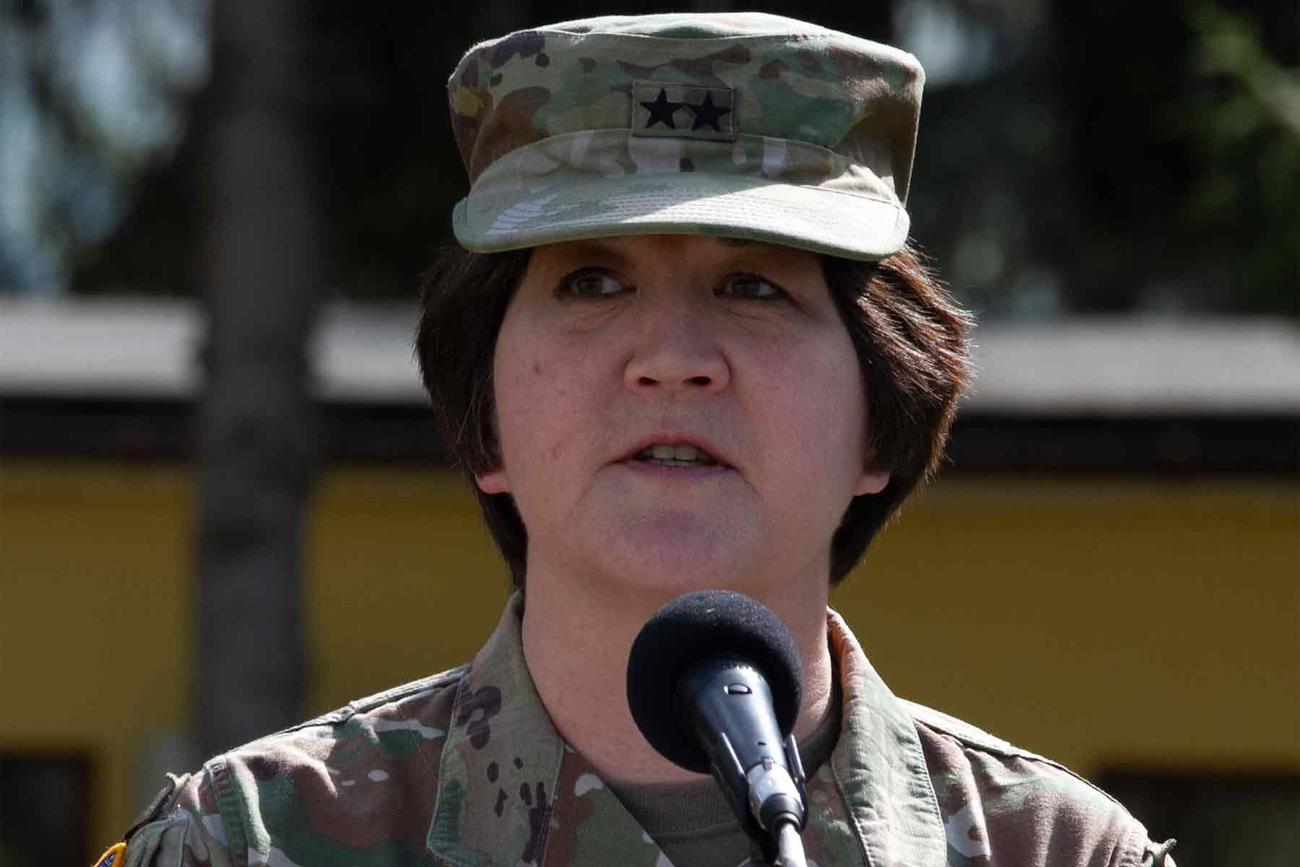 The Army said Tuesday it had disciplined more than a dozen officer, enlisted and civilian leaders in the Illinois-based 416th Theater Engineer Command — including a two-star general — over its bungled implementation of a Sexual Harassment and Assault Response and Prevention program.
Maj. Gen. Miyako Schanely, the former commander of the 416th, received a reprimand from Army Vice Chief of Staff Gen. Joseph Martin over her failure to properly implement the command's SHARP program, the Army said in a release. Schanely had already been suspended from command over this issue, and relinquished her command, the Army said.
The Army said Martin also punished two other senior leaders for their own failures. And Lt. Gen. Jody Daniels, commander of U.S. Army Reserve Commander, took administrative action against 12 more officers, noncommissioned officers and civilians based on the problems uncovered by the Army's 15-6 investigation.
Read Next: 'I am Vanessa Guillén Act' Praised as Calls for Removing COs from Sexual Assault Prosecutions Mount
Three more civilian actions are still pending. The Army said it would not release details about the actions taken against officials to protect their privacy.
The 416th is an Army Reserve unit that provides technical and tactical engineering support to the Army. It is one of only two theater engineer commands in the Army, and is based in Darien, Illinois.
The investigation was launched after a January 2020 story from the Associated Press reported it had failed to properly respond to sexual assault and sexual harassment cases.
The problems with the 416th's SHARP program had serious effects on some soldier's lives. The report found that one soldier, who had suffered a sexual assault, asked for help getting a transfer to another location closer to home.
But that soldier's transfer request was mishandled, the report found. Army personnel didn't get the right documentation in order, or properly inform the soldier about the transfer, leading to confusion.
That soldier's pay was also reportedly mishandled due to an administrative error during the transfer process, leading to the soldier not getting all owed money, or delayed payments.
The paperwork snafus became so bad the soldier apparently has no idea where he or she is actually assigned now, the report said.
"The soldier reportedly has not attended unit training since [redacted] due to uncertainty of [redacted] actual unit of assignment," the report said.
The report also detailed the command's mishandling of a report of sexual assault, including an unidentified official improperly contacting the victim in the case.
Schanely, Army Criminal Investigation Command, and other officials whose names were redacted were told in June 2019 about a reported case of sexual assault.
But instead of contacting CID as required by regulation, the unidentified official got a copy of a memo about the command's responses to the allegations at the time they were first reported, the investigation found. The official then alerted personnel about the allegations, and contacted the victim without the victim's solicitation.
By the end of July 2019, Schanely was told that the victim had decided not to receive support and services from SHARP.
According to the investigation report, which the Army posted online, Schanely's neglect of the SHARP program continued for years.
The 416th didn't hold a sexual assault review board — during which measurable data on sexual assaults is usually gathered — between November 2018 and February 2020, the report said. Nor did Schanely try to gather that data in other ways, the Army found, which put the 416th at risk for not being able to provide soldiers the care they needed.
The lack of leadership and interest in the program led to personnel shortages, and brigades and battalions regularly failed to adequately staff their SHARP programs or meet other requirements.
The 416th had no sexual assault response coordinator from mid-November 2018 until early July 2019, nearly nine months. And it was without a victim advocate for well over a year, from December 2017 until early February 2019.
The people in these positions are critical for running an effective SHARP program, the report said, and the lengthy periods during which the jobs were vacant "contributed to significant deficiencies and lapses in oversight."
Schanely assumed command of the 416th in September 2017, the report said, and commanders and supervisors are required to publish written policy statements on sexual harassment prevention, equal opportunity and other matters on how people are treated at units.
But it wasn't until January 2020 — after the AP published its story — that Schanely and two other unidentified officials got around to publishing an updated SHARP policy.
Schanely never conducted a command climate survey at her level since she assumed command, the report found.
The 416th's SHARP program was also in disarray over everyday things. For example, a lack of internal operating procedures meant that 23 voice messages left for the 416th's official victim advocate over a roughly 10-week period were missed.
The Army's investigation also pointed to broader problems with the SHARP program at Army Reserve's headquarters at Fort Bragg, North Carolina, which it called "inadequately staffed and poorly managed" by supervisors.
The current program manager position for Army Reserve headquarters' SHARP program, which is a civilian job, has been vacant since 2014, except for a roughly eight-month period in 2019.
— Stephen Losey can be reached at stephen.losey@military.com. Follow him on Twitter @StephenLosey.
Related: Air Force Two-Star General to Face Court-Martial on Sexual Assault Charge
© Copyright 2021 Military.com. All rights reserved. This material may not be published, broadcast, rewritten or redistributed.