Friday Workouts: Navy Fit Challenge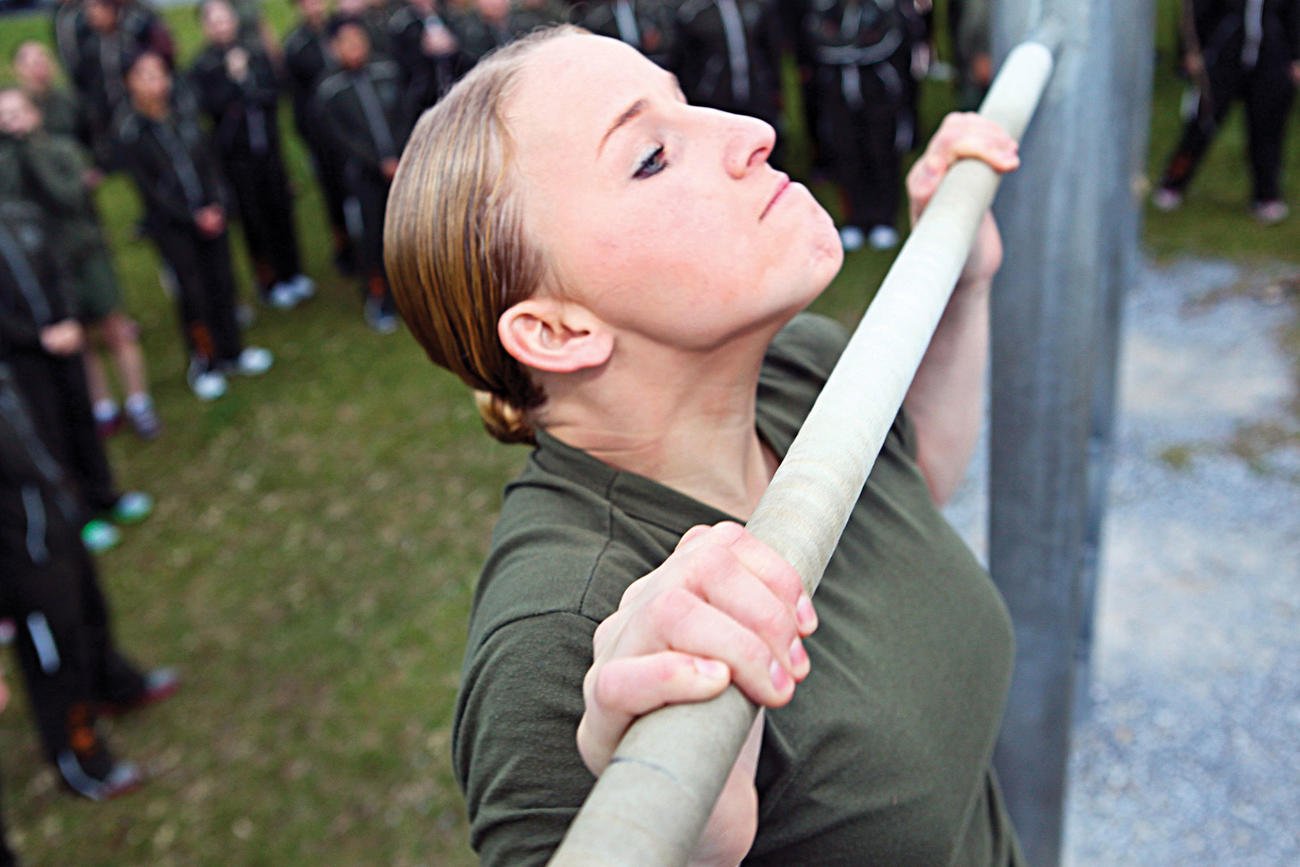 The following workouts are specific challenges from the official Navy Fit Challenge sponsored by the Navy Recruiting Command hosted by GameTime virtual platform. These workouts are designed to keep you moving with minimal equipment, scale easily and, most importantly, provide a fun experience.
Here are the workouts explained:
In this workout, you repeat the following for five sets. You can time yourself if you want, but there's no need to be in a race. Do good, quality repetitions each round by taking your time and not rushing perfect form.
Repeat 5 times
Pull-ups: 10
Push-ups: 15
Dumbbell Bench Press: 10
*rest as needed
In this leg-day workout, you will push your cardio without running. The combination of squats, double-under jump ropes and the squat plus throw of a medicine ball is going to push you. You can add weight on the squats based on your preference and abilities. If you are new to training, consider doing the squats without weights or add dumbbells. If you are regular to leg days, try the barbell squat option with as much weight as you can handle for eight sets of five repetitions.
Repeat 8 times
Squats: 5 reps
*rest 2 minutes
For the following exercises, perform only one round of each after the eight sets are completed:
100 Double-Under Jump Ropes. This means you do two rotations of the rope for every jump, so you need to jump higher than normal and get a jump rope that is a very thin wire. Shoot for 100 reps nonstop, but if you need to stop and catch your breath, add a rest period until you recover to finish the set of 100 reps. If you have a hard time with the double under, make it a single rope jump if needed.
20 Wall Balls. A wall ball is a deep squat holding a medicine ball (10-20 pounds) at chest level. Using the momentum from your squat, you throw the ball up high on a wall about 2 feet in front of you. Repeat by catching the medicine ball and returning to the deep squat position. Shoot for 20 reps nonstop, but add a rest period if necessary until you recover to finish the set of 20 reps.
This workout series only requires a bar so you can perform a challenging version of the knee-up. This circuit is an AMRAP ("As Many Rounds As Possible") in a 15-minute period. So keep moving and try to keep your rest to a minimum. Rest time counts as part of the 15 minutes.
Here is the workout:
20 Toes to Bar. This is an advanced hanging knee-up. If you cannot do a full toe-to-bar movement, try vertical knee raises while hanging from the bar by bringing your knees to hip level. You also can do this on one of the vertical knee raise machines you see on many dip and pull-up bar stations.
10 Four-Count Leg Lifts. You will see in the video that this is two exercises combined into one movement. First, use your knees to lift your leg off the floor straight up. Bend at the hips, then bring them down to six inches off the floor and open and close the legs like a pair of scissors.
This is a full-body workout that will challenge you no matter who you are, but there are ways to scale this one if needed. You'll find that lifting a weight from the floor to overhead, jumping over a box and then quickly doing a push-up and stand-up (burpee) are just a few of the challenges in this circuit. In this workout, you do five sets of the following. Make sure you watch the video to perform this series of exercises correctly:
Repeat 5 times
10 Dumbbell Snatches (5 per arm alternating each rep)
10 Burpee and box jumps
10 Dumbbell clean and push press (from the ground to overhead)
2 tire flips (or deadlifts if you do not have a tire available)
You can time yourself, but there's no need to be in a race with this workout as perfect reps are more important than speed combined with poor form.
Once you complete any of these exercise series, you can upload videos of you doing the workouts and your scores. Then see how you fare compared to other athletes on the GameTime platform. Just scroll down on the Navy Fit Challenge page to see where you enter your email and scores and upload videos.
Stew Smith is a former Navy SEAL and fitness author certified as a Strength and Conditioning Specialist (CSCS) with the National Strength and Conditioning Association. Visit his Fitness eBook store if you're looking to start a workout program to create a healthy lifestyle. Send your fitness questions to stew@stewsmith.com.
Want to Learn More About Military Life?
Whether you're thinking of joining the military, looking for fitness and basic training tips, or keeping up with military life and benefits, Military.com has you covered. Subscribe to Military.com to have military news, updates and resources delivered directly to your inbox.
© Copyright 2021 Military.com. All rights reserved. This material may not be published, broadcast, rewritten or redistributed.