'Short on Details': Lawmakers Grill Navy, Marine Leaders on Big Plans for Drone Ships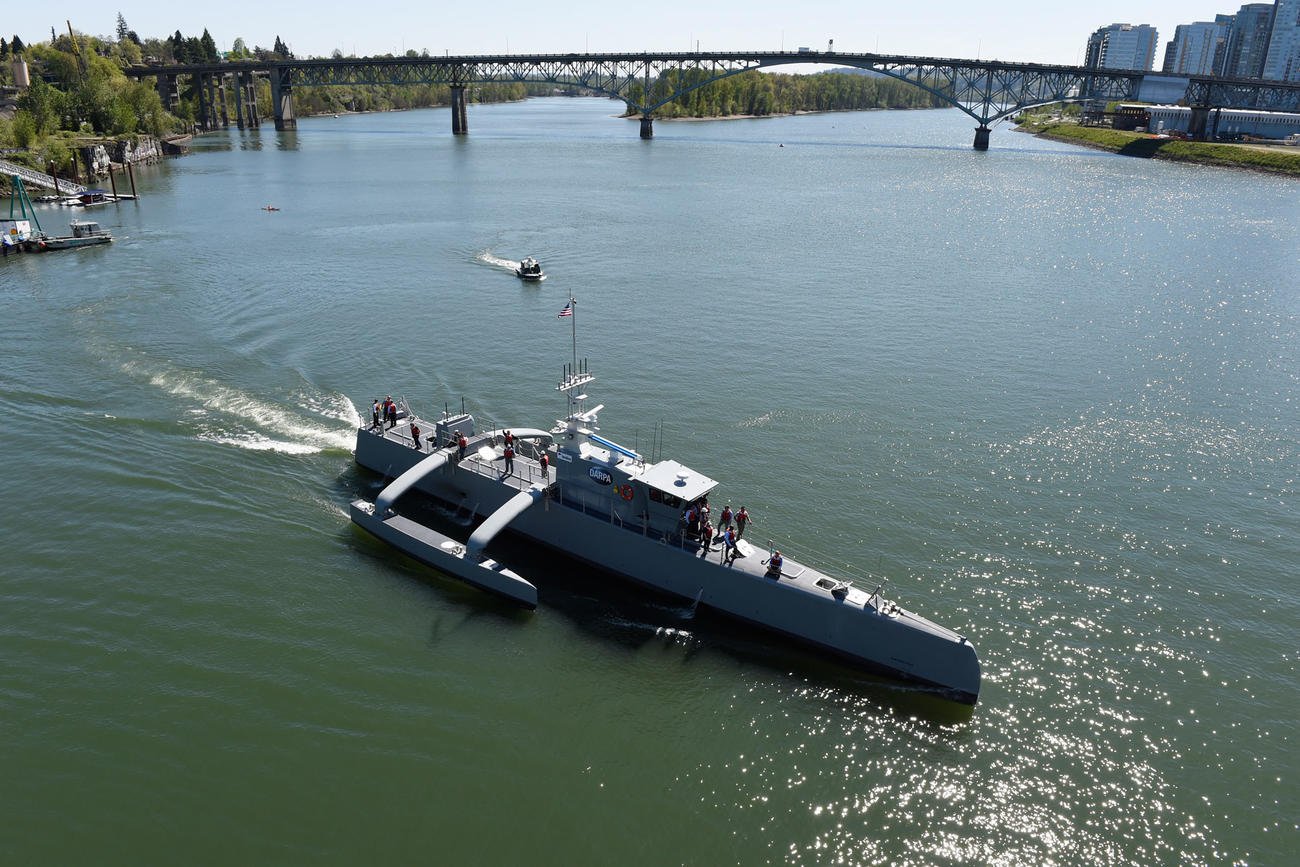 The Navy has had a tough time selling its plan to invest billions in a fleet of drone ships that can support the force while keeping the enemy guessing, and members of Congress don't yet appear sold on the strategy.
Top Navy and Marine leaders appeared before members of Congress two days after a new "campaign plan" was released on the sea services' ambitions for unmanned platforms. The plan was meant to make "unmanned systems trusted in integral parts of our force," Vice Adm. Jim Kilby, deputy chief of naval operations for warfighting requirements and capabilities, told reporters this week.
But a retired Navy officer in Congress said she was disappointed by the lack of substance in the plan.
Read Next: Marine Who Risked His Life in Korean War Awarded Silver Star on His 89th Birthday
"I thought it was full of buzzwords and platitude, but really short on details," said Rep. Elaine Luria, a Virginia Democrat who sits on the House Armed Services Committee.
Kilby; Marine Lt. Gen. Eric Smith, head of Marine Corps Combat Development Command; and Jay Stefany, acting assistant secretary of the Navy for research, development and acquisition, testified before the subcommittee on seapower and projection forces Thursday.
Luria was one of several lawmakers to point out a number ofl Navy programs that have been delayed and over budget, including the Ford-class aircraft carrier, Zumwalt-class guided missile destroyer, and littoral combat ship.
"With the recent acquisition program failures that we've had on the last several ship classes, rightly, those of us on this committee are skeptical of the Navy's ability to shepherd this new technology into employable assets that contribute to the lethality of our forces," she said.
Rep. Rob Wittman, a Virginia Republican, was quick to respond to the Navy and Marine Corps' push in the campaign plan to invest in capabilities rather than a specific platform. Wittman echoed that during Thursday's hearing, citing the $700 million the Navy invested in a mine-hunting drone for the LCS.
The program was scrapped after 16 years because the drone couldn't spot explosives.
"I will not support a misguided acquisition program that wastes taxpayers' resources in an effort to deliver this vision," Wittman said. "… We need to be realistic in our technology assessments, resolute in our desired end state, and adaptable to delivering key attributes of this vision."
Stefany said the services are working to have sailors and Marines test one or two prototypes, so they quickly get feedback about whether the systems are worth bigger investments.
"We're going to put that into our practices … to make sure we're reviewing that kind of information before we make program decisions to go forward," he said.
— Gina Harkins can be reached at gina.harkins@military.com. Follow her on Twitter @ginaaharkins.
Related: Why You Should Trust Drone Ships and Unmanned Tech, According to the Navy
© Copyright 2021 Military.com. All rights reserved. This material may not be published, broadcast, rewritten or redistributed.