Workout of the Week: 10 x 100 Reps Advanced Workout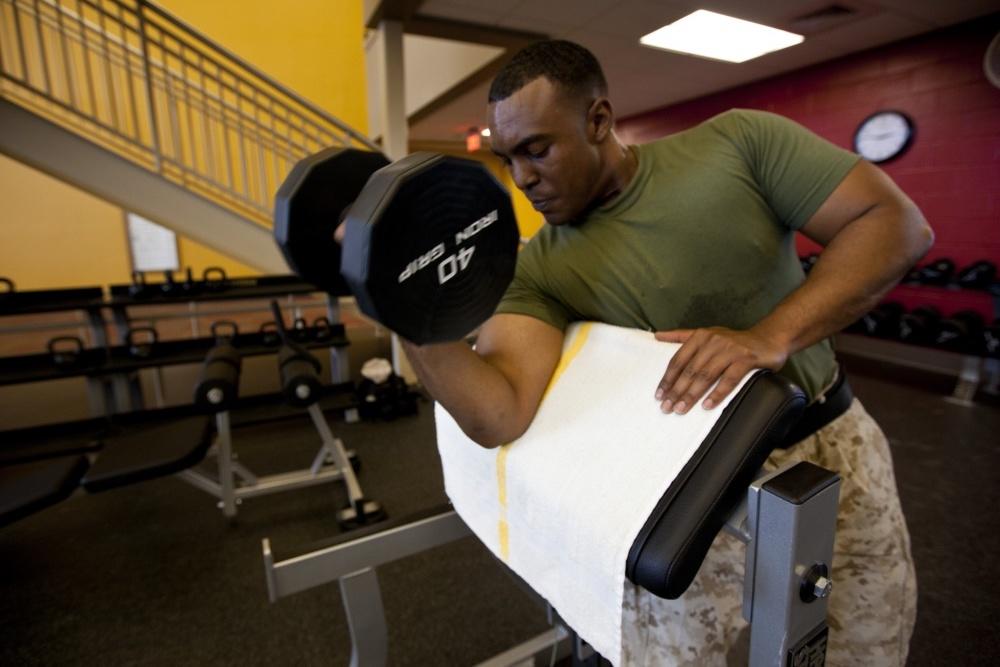 Workouts like this start off easy, then build up repetitions using the ladder or pyramid method. For this warm up, you will do some jogs (not sprints) in between push-ups with an increasing level each set. We typically do the warm-up below on a football field.
Warm-up with a push-up ladder 1-15 with 100 meter runs between each set that blends into the workout beginning. Add in some stretch or dynamic stretches in between. The 1-15 pushup ladder gives you a total of 120 reps, so this exercise counts as one of the 100-rep sets you will do below.
How To Do This Workout: The best way to do this workout without significant time out for rest is to make the following exercises a max rep circuit. Try it this way: Do as many pull-ups as you can, then go to bench press for max reps, then the combo exercise of bicep curls and military press together in one movement. Keep doing those three exercises in a circuit until you have completed the 100 reps in each.
Advice: Do not try this workout if it takes you ten or more sets to do the 100 reps of any exercise. Most people in our training group did this in 5-7 sets. We did have a few that did this one in four sets.
Note: If you cannot do 100 reps of a single exercise in a workout with multiple sets, cut it in half and build up to it.
100 pull-ups
100 bench press (95-135 pounds)
100 bicep/military press
100 Kettlebell swings
100 flutter kicks
100 leg levers
100 scissors
100 dips
100 reverse push-ups (hand release portion of the hand release push-up)
The three hip exercise combination of flutter kicks, leg levers and scissors is a challenging grinder PT circuit of exercises that are used at BUD/S PT sessions. Doing these with wet pants and boots was an eye opener on how important having strong hip flexors and core are, especially in special ops programs that required miles of swimming and diving with big SCUBA fins.
If you do not have a bench press you can replace with TRX atomic push-ups or burpees to make them just a little bit harder than the regular push-up.
Finish with a Goal Pace Running Workout
If you ever have issues with running after the PT test, this workout will help you prepare for the type of conditioning required for running well after the max reps of a PT test.
Repeat 6 times
Run 400 meters at mile run goal pace
Walk 100 meters
Cooldown: Mini-Mobility
You will want to cool down with what I like to call the Mini-Mobility Session and stretch and roll out any aches from the above repetitions. Here is an excellent cooldown no matter what workout you do:
Repeat 2 times
Bike, row or elliptical for 5 minutes
Stretch or foam roller for 5 minutes
Enjoy this little high rep challenge. There is a lot of volume if you add up all the repetitions, but when you spread it out with 10 different exercises, it is very doable and a useful tool to see how your muscle stamina is improving. Try it as an assessment workout tool.
Stew Smith is a former Navy SEAL and fitness author certified as a Strength and Conditioning Specialist (CSCS) with the National Strength and Conditioning Association. Visit his Fitness eBook store if you're looking to start a workout program to create a healthy lifestyle. Send your fitness questions to stew@stewsmith.com.
Want to Learn More About Military Life?
Whether you're thinking of joining the military, looking for fitness and basic training tips, or keeping up with military life and benefits, Military.com has you covered. Subscribe to Military.com to have military news, updates and resources delivered directly to your inbox.
© Copyright 2021 Military.com. All rights reserved. This material may not be published, broadcast, rewritten or redistributed.