39-Year-Old Navy Chief Is 4th Sailor in 20 Days to Die of COVID-19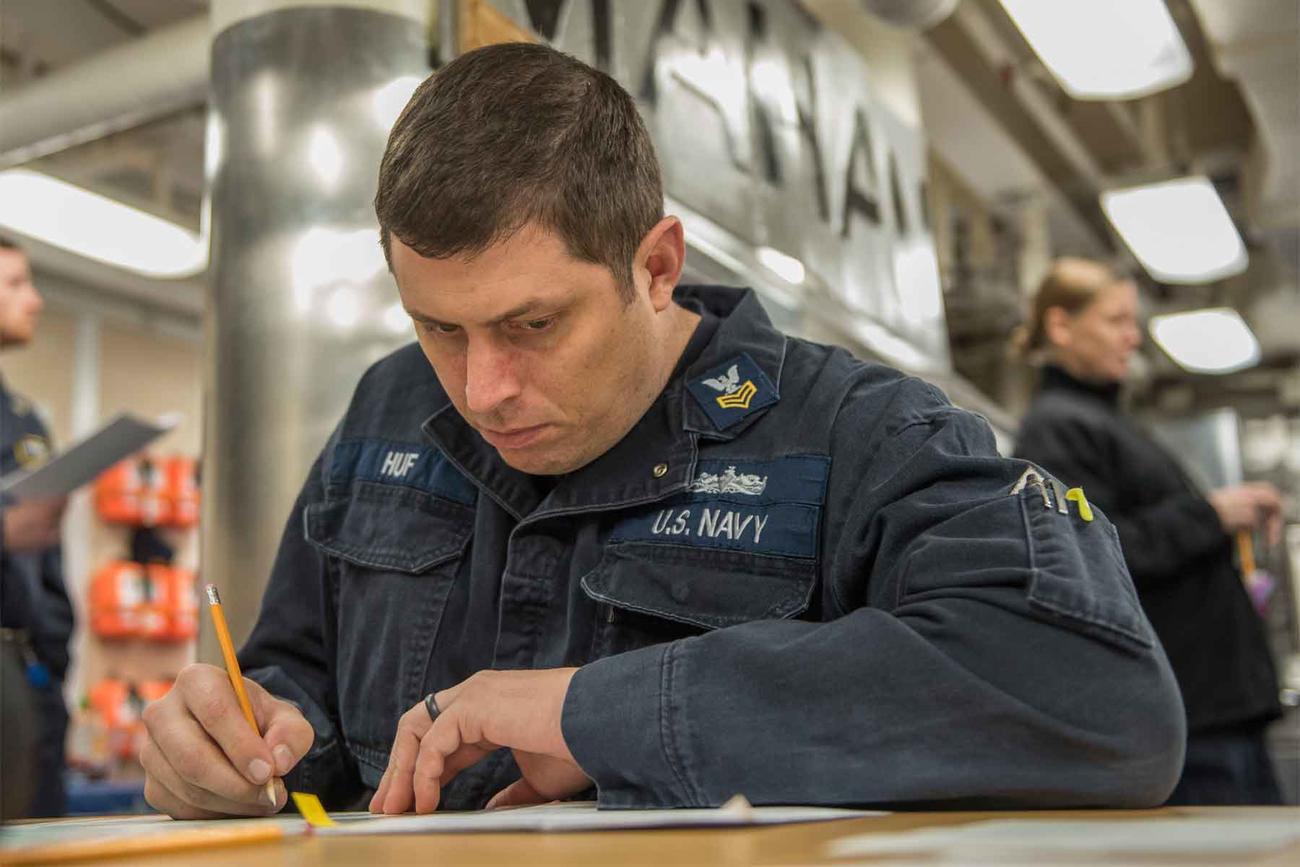 The Virginia-based sailor who died Monday of the illness caused by the new coronavirus was Chief Hull Technician Justin Huf.
Huf, 39, began quarantining Feb. 16 after developing symptoms of COVID-19, according to a Navy news release issued Wednesday. He tested positive for the virus three days later and was admitted to Sentara Leigh Hospital in Norfolk, Virginia, on Feb. 20.
He was in the hospital's intensive care unit when he died.
Read Next: Congressional Pressure Adds 'Urgency' to Agent Orange Claims, VA Secretary Says
"Our deepest condolences are with the family, friends and shipmates of Chief Petty Officer Huf during this extremely difficult time, and we ask that their privacy be respected," the release states.
Huf, originally from California, was assigned to Assault Craft Unit 4 out of Joint Expeditionary Base Little Creek. Sailors who'd been in contact with him have been notified and are taking precautions in case they were also exposed to the virus.
Members of Huf's crew also have access to chaplains, embedded mental health specialists and counselors after their shipmate's loss, officials said.
Huf is the seventh sailor to die of COVID-19 since the start of the global pandemic. He's also one of two Virginia-based sailors who died from the virus this month. Two more sailors also died this month — one in Illinois and the other in Florida.
Rep. Elaine Luria, a retired Navy commander and Democrat representing much of Hampton Roads and Virginia Beach, said Wednesday that Huf's death serves as "yet another painful reminder of the severity of this deadly virus."
"I urge the Navy to investigate this trend and determine what improved mitigation measures may be necessary to better protect Navy sailors and civilians," Luria said.
More than 50 Navy civilians have died of COVID-19.
Rear Adm. Bruce Gillingham, the Navy's surgeon general, said last week that sailors who have died of COVID-19 this month were likely exposed to the illness in their communities since they weren't deployed when they became infected.
"I think it just reflects the overall endemicity of the virus in the community," he said. "…. They were exposed, more than likely, within the community."
Huf enlisted in the Navy in 2003, according to his service records. He became a chief petty officer in March 2020 and served on the destroyer Mahan before joining Assault Craft Unit 4.
He was also assigned to the Naval Academy for three years and served with a different assault craft unit at a California Marine Corps base for four years.
Huf's personal awards included three Navy and Marine Corps Achievement Medal and three Good Conduct Medals.
— Gina Harkins can be reached at gina.harkins@military.com. Follow her on Twitter @ginaaharkins.
Related: Navy Loses 4th Sailor in 20 Days to COVID-19
© Copyright 2021 Military.com. All rights reserved. This material may not be published, broadcast, rewritten or redistributed.