Preparing for the New Air Force PAST Test: Special Warfare Open Enlistment (SWOE)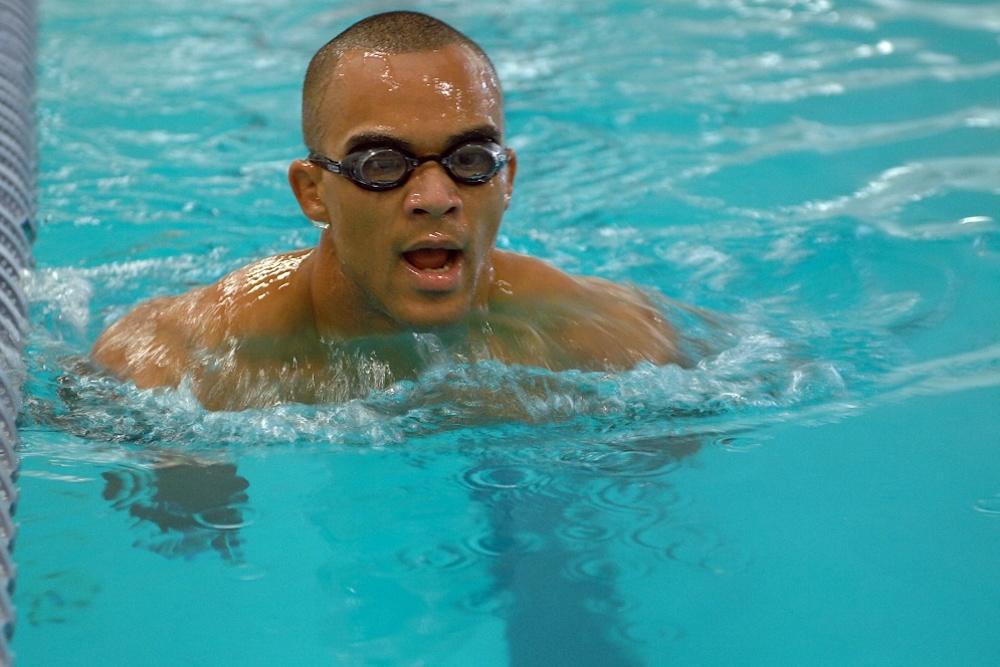 Over the years, the Air Force Special Warfare program has made significant changes in how it prepares, tests and trains its candidates. From reorganizing the Physical Ability and Stamina Test (PAST) to adding in a preparatory course after Basic Military Training (BMT), the Air Force Battlefield Airmen candidates are now part of the Air Force Special Warfare Open Enlistment (AFSWOE) process.
The first step to entering this career field in any of the Air Force Special Warfare programs – Pararescue, Combat Control Tech, Special Recon or Tactical Air Control Party — is to master the new PAST test.
Basically, the test has been flipped and they now start with the dry land section (calisthenics and run) and end with the swim portions (underwater swims and 500-meter swim).
Minimum Physical Ability and Stamina Test (PAST) for Air Force Special Warfare
AF PAST EVENTS
SWOE:

PJ, CCT, SR, TACP Scores

Pull-ups: 2 minutes
8
Sit-ups: 2 minutes
50
Push-ups: 2 minutes
40
1.5-mile run
10:20
2 x 25-meter underwater swim
Pass/fail
500-meter swim
15:00
How to Optimally Train for the New Arrangement of Exercises
Formerly, like the Navy SEAL PST, the Air Force had the swimming events first. The way to prepare for either was similar, with the only difference being that the Air Force swims 500 meters and the Navy swims 500 yards. Learning to swim efficiently was the most important as you had the remaining PT and run directly after the swim.
Now, with the swim being last in the Air Force PAST, the goal is to make your workouts always end with a swim. Make your workouts resemble the test with calisthenics and lifting first, then running, then swimming.
The Exercise Breakdown of the PAST
The pull-ups, sit-ups and push-ups now start off the test with two-minute testing sets for each and a two-minute rest in between the three exercises. After the push-ups, you get a 10-minute recovery and transition period prior to the run.
As with any regular military PT test (PT first, run last), it is important to use the ten minutes wisely and get the blood from the upper body muscles back down to the legs where it will be needed when you start running. We call this the PFT Transition and it's not unlike the way a triathlete prepares for the next event.
Get ready for the run by jogging for 2-3 minutes, stretching the arms while you run. Continue stretching the upper body and torso for a few more minutes, then spend the last 4-5 minutes stretching the legs to be fully ready to run. This transition should help you actually feel better during the first half mile of the 1.5-mile timed run.
If you skip this transition exercise, you may say to yourself, "I did not feel right for the first 400-800 meters but got into the groove for the last mile." The transition warmup helps to prevent that, so you get the awkward upper body swell out of you before you run. This can positively affect your time and you should practice the PT and running combination in your workouts regularly as in the sample Military PT Test Training Week.
After the PT and Run, you have a 30-minute transition period prior to the underwater swim, the first test of the swimming portion. These are 2 x 25-meter underwater swims that are easily performed if you use a proper underwater swimming technique that does not waste energy with unneeded strokes.
You do have a 3-minute rest period in between underwater swims. An efficient 25-meter underwater swim should take 4-5 strokes if your technique is solid. See the underwater swim video technique drill.
*Warning — do not practice underwater swimming alone or without a lifeguard on deck.
After the two 25-meter underwater swims, you have a 10-minute rest period before you do the 500-meter freestyle, sidestroke or breaststroke swim. You can also create a good swim strategy and mix the strokes up as you prefer. Typically, the fastest swimmers will be those who are good at freestyle, though the other strokes can be good, too, if you practice them at your goal pace.
Try the 50-50 Workout to improve swimming technique and conditioning:
Warm up with a 500-meter swim. Mentally, it's good to say, "this is just my warm-up," so get into the kind of swimming condition so that you're able to do that. This takes time and practice.
Then do the following:
Repeat 10 times
Swim 50-meter freestyle fast
Swim 50-meter side or breaststroke easy
See if you can "rest" by doing the other side or breaststroke. If you cannot, it is fine to rest 10 seconds, but build up to a level that you can do this workout without rest. This is a 1,500-meter swim workout and if you can do this several times a week, you will get into swimming shape quickly and be able to crush the last event of the PAST.
Nutrition/Energy Note: You may want to sip on some carbohydrate drink throughout the rest periods just to keep your blood sugar and glycogen energy reserves high as you will be anaerobic for most of this test. Taking advantage of the rest periods to refuel and stretch and prepare for the next event must be part of your overall performance strategy.
My Personal Opinion on Minimum Standards: If you are considering any Special Ops programs, shooting for the minimums is not the right goal to set for yourself. No one makes it through on minimum standards as you will either fail to meet the standards at some point in training or you injure yourself because you don't have the level of conditioning required of successful students.
You need to be better, not only at the testing events, but you must also understand what the selection will require of you to get through the training. The PAST Test is just the ticket to get to the training. Personally, I would strive for the following standards on either test:
500-yard or 500-meter swim: 8:20-9:00 (a meter or yard per second pace is a good goal)
Push-ups: 80+
Sit-ups: 80+
Pull-ups: 20+
1.5-mile run: 9 minutes or less
(Note – these are my recommendations and not the Air Force recommendations.)
Stew Smith is a former Navy SEAL and fitness author certified as a Strength and Conditioning Specialist (CSCS) with the National Strength and Conditioning Association. Visit his Fitness eBook store if you're looking to start a workout program to create a healthy lifestyle. Send your fitness questions to stew@stewsmith.com.
Want to Learn More About Military Life?
Whether you're thinking of joining the military, looking for fitness and basic training tips, or keeping up with military life and benefits, Military.com has you covered. Subscribe to Military.com to have military news, updates and resources delivered directly to your inbox.
© Copyright 2021 Military.com. All rights reserved. This material may not be published, broadcast, rewritten or redistributed.