Navy Says Vaccinations Allow First Steps Toward More Normal Deployments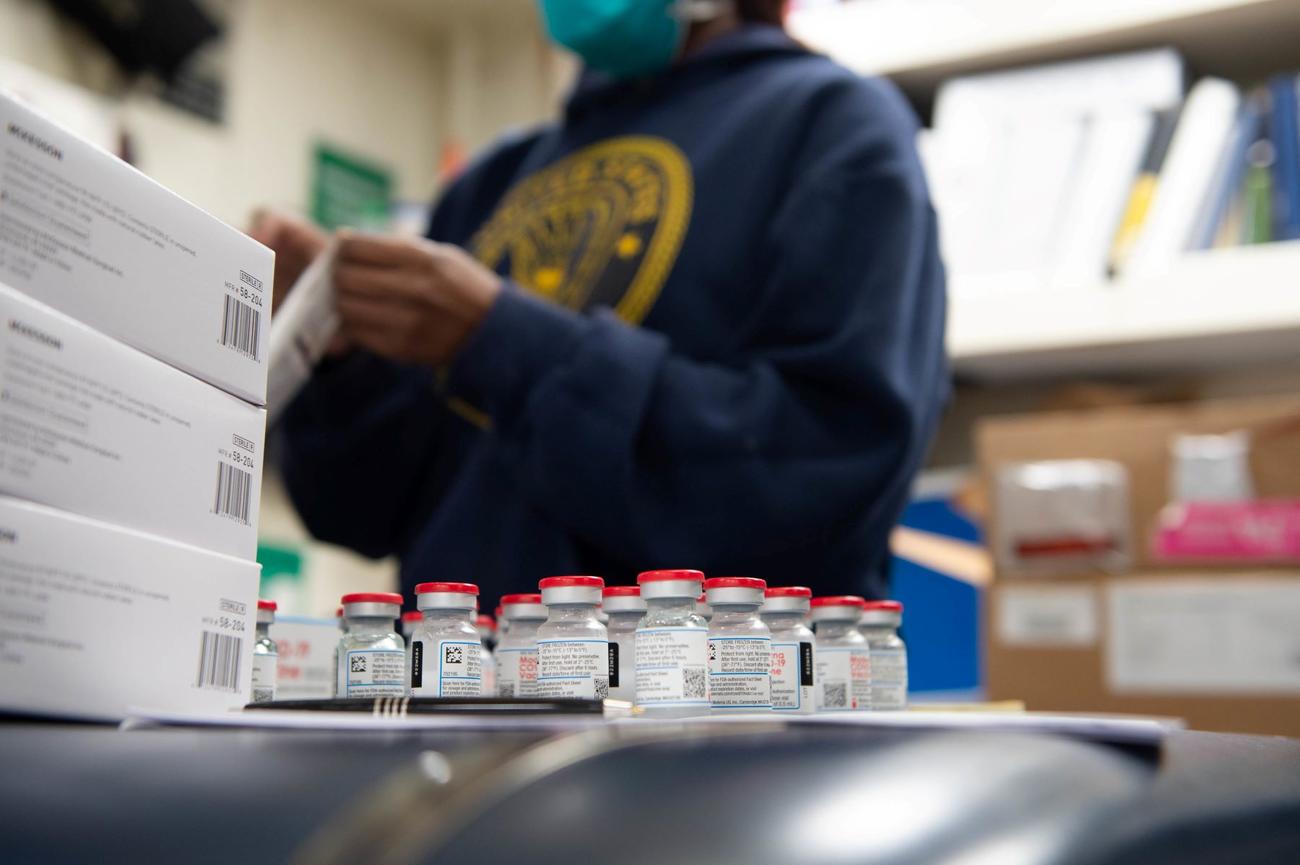 The Navy's push to immunize sailors from COVID-19 — including tests in Norfolk on handling vaccines safely aboard ships — is allowing some first steps toward a more normal life on deployment, the service's surgeon general and one of its top operations officers say.
The latest revisions to the COVID-19 Standardized Operational Guidance offer a chance to ease restriction-of-movement requirements, which tightly limit where sailors can go and whom they can be with for 14 days before deployment. The revisions could even mean no quarantine for sailors who received a final dose of the two-shot vaccines within 90 days and allow them to get off the pier for liberty in safe haven ports.
"It's a way to give them back some normalcy," said Rear Adm. Karl Thomas, Assistant Deputy Chief of Naval Operations for Operations, Plans, and Strategy.
He said the Navy found that crews about to deploy are signing up for vaccinations in large numbers. Some 23% of active duty sailors have had at least one shot, and 13% are fully vaccinated. Roughly 80% of the recently-deployed sailors of the Norfolk-based USS Dwight D. Eisenhower Carrier Strike Group are being immunized.
With the strike group, and in an earlier test on USS San Antonio in Norfolk, Navy medical staff figured out ways to handle and vaccinate sailors on a ship, rather than making them go to a hospital or clinic, Rear Adm. Bruce Gillingham, Surgeon General of the Navy, said.
"You know those vaccines are very fragile," he said. But Navy medical staff showed they can get the vaccines to a ship, store them safely there and give the shots without wasting or spoiling any, he said.
The Eisenhower strike group is set up to administer the final dose of its vaccines while at sea, another important step in protecting the fleet from the virus.
Gillingham said the Navy is gearing up to expand its shipboard vaccinations, with lessons learned from the San Antonio and Eisenhower.
While such matters are ultimately a decision for a ship's commander, the latest revisions to the Navy's COVID-19 guidance said ships that are fully immunized could relax some mask-wearing and social-distancing rules.
In addition to no longer demanding 14-day restrictions of movement for immunized individuals, fully immunized crews of less than 300 sailors could ease up on masks and social distancing once at sea. Crews of 300 to 999 sailors could relax those rules, if the commander decides to, within 72 hours if everyone was immunized onshore, or four days if immunizations were completed while at sea. Larger crews could ease rules after 14 days, the new guidance document says.
With COVID-19, port calls and liberty have been limited, but those restrictions also could be eased to allow sailors access to more facilities such as gyms and Navy Exchange stores at the Navy bases their ships visit, Thomas said.
So far, the Navy has fully immunized 45,000 active duty sailors, and given first doses to another 35,000. In addition, Navy facilities have immunized civilian employees and members of other armed services.
The only constraint is the availability of vaccines, Gillingham said.
While some services have reported that a large minority of personnel are reluctant to be vaccinated, Thomas said that acceptance by sailors about to deploy has been high.
The guidance document noted that nearly every ship in the Navy has seen at least one COVID case. But in most of those, early action to isolate, quarantine, contact-trace and maintain strict mask, social-distancing and sanitation practices has limited spread to well under 5% of any crew.
This article is written by Dave Ress from Daily Press (Newport News, Va.) and was legally licensed via the Tribune Content Agency through the Industry Dive publisher network. Please direct all licensing questions to legal@industrydive.com.
© Copyright 2021 Daily Press (Newport News, Va.). All rights reserved. This material may not be published, broadcast, rewritten or redistributed.