Ask Stew: How to Create Your Own Training Group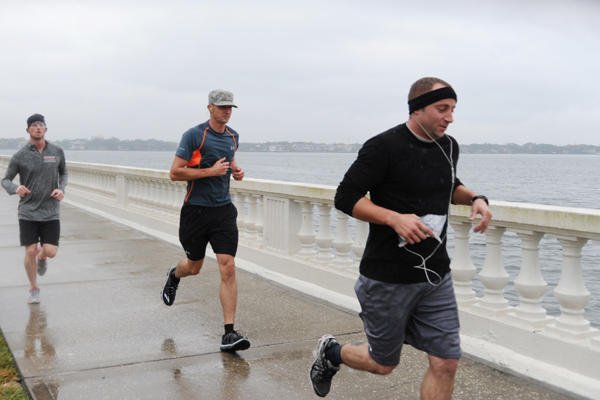 Finding a group that trains for specific tasks can be difficult, especially if you are a civilian who is considering military service. If you are also preparing for a special ops program, finding training partners can be even more difficult. Even military school and college program members have difficulty finding a group that wants to train together for specific competitive programs.
If you make the effort and use some of the ideas below, you may be able to find a group of like-minded people, create a team atmosphere and hold each other accountable. Here is a question from an ROTC student considering the Army Ranger/Special Forces pipeline once he graduates.
Mr. Smith, we are trying to create a club here at my school to prepare for some of the harder training the Army has to offer. We are an Army ROTC program at a major university and looking for best practices on how the Naval Academy does the Spec Ops Team that you coach. If we could make it like your Heroes of Tomorrow program, that would be ideal. Any suggestions on making this happen? Thanks for your time. — Very Respectfully, Cadet P. Johnson
Great idea! Thanks for considering military service. You will have to work out the basics by finding a time, place and the right people to invite to the training. You will also have to follow your school's administrative and logistical requirements for creating an official club or extracurricular activity on campus.
Find a Group: Regardless of your status (civilian, cadet/midshipman or active duty), the most important part of creating a group is finding like-minded people who want to train the way you do. You can scour the training areas of your college or base and look for the people who are going on rucks, running during their lunch break or lifting regularly in the weight rooms.
Being a member of an ROTC program is helpful. You may be able to pull from the ranks of all classes to find those who are interested in additional fitness programming. Use social media (carefully) to find more local interest, as well. (If you are in a military unit, you may want to skip this suggestion.)
If you are a group of mostly civilians who want to create a workout group prior to joining the military, social media recruitment can be less of an issue and help you find greater numbers. Fliers posted around training areas are a good start.
Find a Good (Inclusive) Name: Not everyone wants to go hard-core, but some may appreciate the team or group aspect of training, even if they are not personally interested in the same goals as most of the club. In hindsight, the Midshipmen at the Naval Academy who created the Spec Ops Team (SOT) back in 2008 could have picked a different name even though the interested club members all want to go Navy SEAL, explosive ordnance disposal, or Marine RECON or Marine Special Operations Command.
The name created an unintended misconception within the brigade that the group is exclusionary, but the size of the team is mainly limited by the school. There are similar clubs on the campus, such as the Infantry Skills Team, Endurance Team and the Combat Arms Team. They train similarly to how our team prepares, and most of their members are looking to serve in some combat ground fighter or spec ops role within the Navy or Marine Corps.
Basically, we are a "tactical fitness team," and I am the volunteer coach of a group where most people want to serve in special ops programs. Not everyone wants to be part of a "spec ops team."
Get on a System. Whether you create your own workouts as a group, use command/mentor guidance or employ programming found in training books/online, getting on a system of training is important. Training for a fitness test is just one step of the programming, as that will get you TO the training as a competitive candidate. However, properly preparing to get THROUGH the training requires some specifics to the future schools you seek. When you have years as a cadet/college student to prepare, you need to have a system that allows you to work on your weaknesses as a tactical athlete. We all have a physical training weakness, depending on our work and athletic history. Train to get good at everything, not just great at one thing and neglecting other elements of fitness.
Diversify Your Training. Consider including logical progressions within the Army Training Pipeline. As an Army ROTC unit, you could open this up to cadets who are interested in attending Airborne, Air Assault School, Army Dive School and other challenging summer programs for cadets. You might find greater interest in a program that is more diverse in its scope than just preparing its members for a job after graduation.
Competitions. The original reason why the group was started at the Naval Academy was to create an official team that could travel to local competitions. We have found obstacle course races, SWAT competitions, other college ROTC teams to train and compete with, endurance races and other fun events where we could represent the school and unit. If you do it right, you may even get a travel budget. You can also collect club dues to pay for team entry fees and other competition gear such as T-shirts or patches.
Heroes of Tomorrow is a free training program that I created nearly 20 years ago for young men and women who want to serve in the military, police or become firefighters. We are on my Seasonal Tactical Fitness Periodization system. All I did was set a time and place to train every day at a local park during normal workout times so I did not waste time waiting around for people if no one showed up. Over the years, I have had only a handful of days that no one attended.
Overall, it has been a great source of accountability, coaching and education. It's given me plenty of ideas to write about as a fitness columnist. Best of all, we have helped a lot of people prepare for some of the toughest jobs in the military and law enforcement.
— Stew Smith is a former Navy SEAL and fitness author certified as a Strength and Conditioning Specialist (CSCS) with the National Strength and Conditioning Association. Visit his Fitness eBook store if you're looking to start a workout program to create a healthy lifestyle. Send your fitness questions to stew@stewsmith.com.
Want to Learn More About Military Life?
Whether you're thinking of joining the military, looking for fitness and basic training tips, or keeping up with military life and benefits, Military.com has you covered. Subscribe to Military.com to have military news, updates and resources delivered directly to your inbox.
© Copyright 2021 Military.com. All rights reserved. This material may not be published, broadcast, rewritten or redistributed.