Navy IDs 3rd Sailor to Die from COVID-19 This Month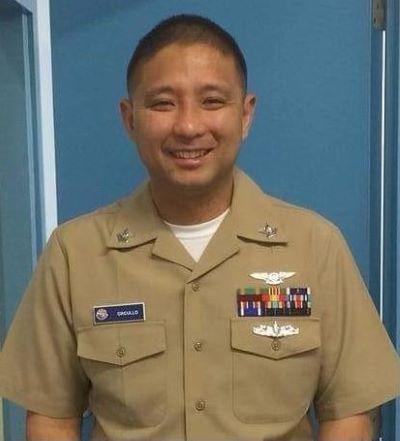 The sailor assigned to a Virginia-based ship who died of complications tied to the illness caused by the coronavirus this week was a 42-year-old from Hawaii.
Aviation Support Equipment Technician 1st Class Marcglenn L. Orcullo, who was assigned to the amphibious assault ship Wasp, died of COVID-19 on Friday, Navy officials said in a statement. Orcullo tested positive for the virus on Jan. 17.  
Orcullo was being treated in Sentara Norfolk General Hospital's intensive care unit at the time of his death. He was transferred there two weeks before his death from Sentara Princess Anne Hospital in Virginia Beach, where he was first admitted on Jan. 17.
Read Next: Navy Will Make COVID-19 Vaccination Mandatory 'As Soon as We Can:' 3-Star Admiral
Chaplains, counselors and mental health specialists have been made available to Orcullo's shipmates on the Wasp, which is homeported at Naval Station Norfolk.
"Our thoughts and prayers are with the family, friends and coworkers of Petty Officer Orcullo during this extremely difficult time, and we ask that their privacy be respected," Navy officials said in a Saturday statement.
Orcullo enlisted in the Navy in July 2010. Before being assigned to the Wasp, Orcullo also served on the Bataan and Nassau. His personal awards include a Navy and Marine Corps Achievement Medal and Good Conduct Medal, according to career records. 
Orcullo is the third U.S. sailor to die of COVID-19 in February. 
Chief Quartermaster Herbert Rojas, a 50-year-old staff instructor at Recruit Training Command Great Lakes, Illinois, died of the virus at his off-base residence on Feb. 2. Information Systems Technician (Submarines) Second Class Petty Officer Cody Andrew-Godfredson Myers, a 26-year-old member of the ballistic-missile submarine Tennessee's Blue crew, died of COVID-related complications two days later.
The Navy announced this week that about 5,000 members of the Dwight D. Eisenhower Carrier Strike Group would receive the COVID-19 vaccine ahead of their upcoming deployment. Multiple ships have been forced to pull into port during the global pandemic due to COVID-19 outbreaks.
The Navy has declined to publicly disclose the number of vessels that have had positive cases among crew members, citing operational security.
— Gina Harkins can be reached at gina.harkins@military.com. Follow her on Twitter @ginaaharkins.
Related: Sailor Assigned to USS Wasp Dies of COVID-19, 3rd Navy Virus Death This Month
© Copyright 2021 Military.com. All rights reserved. This material may not be published, broadcast, rewritten or redistributed.