Add Extra Movements to Turn a Squat Pyramid Into a Full Leg Workout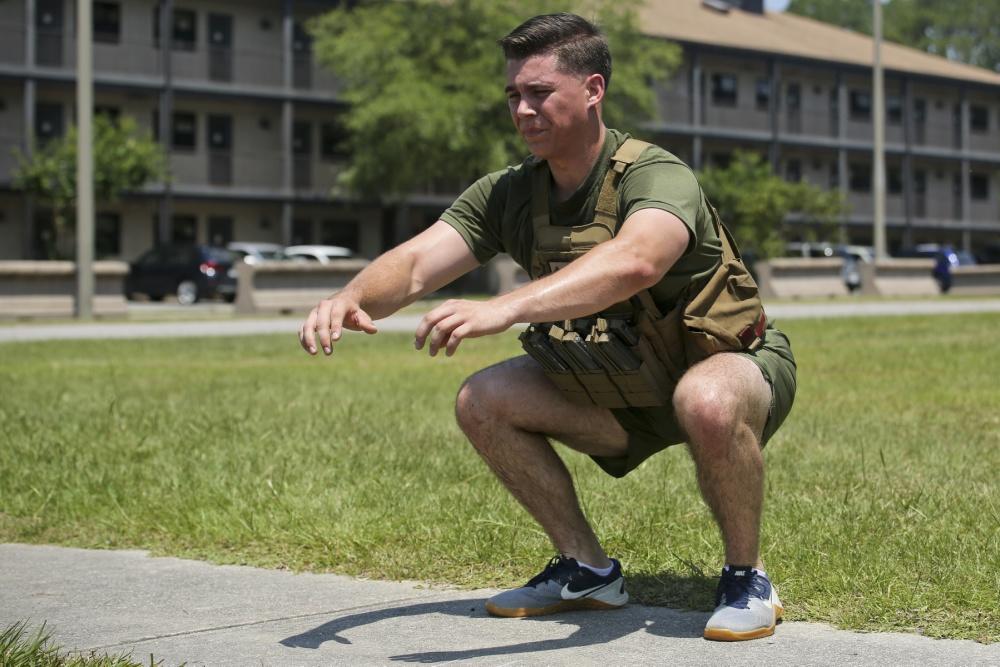 If you like the pyramid workout, you will enjoy this squat pyramid that can be used as a warm-up. With a few added exercises, you can quickly turn it into a full leg workout.
The best part of this pyramid is that it starts off as a warm-up and slowly builds up to a workout, depending on your abilities and how high you go up the pyramid. When you do the pyramid in reverse on the back end of the workout, you create a nice cooldown as well.
Once again, a pyramid can be a complete workout. When you get creative with this pyramid and add more exercises, it's also a great way to push the volume on your leg days.
Here is a workout we did today with a group of future special ops candidates:
We started off the morning with a beach run or ruck for four miles. Instead of doing a heavy lift, we focused on some higher-volume calisthenics with lighter lifts and movements:
Pyramid Warmup With Squat and 100-Meter Run
*Depending on your abilities, you can do the pyramid as written below or double or triple the squat repetitions each set to do a total of 200 or 300 repetitions, creating a workout similar to the Murph Pyramid.
Sets 1-5: The Warmup
1 squat, nice and slow, and jog 100 meters. Mix in some dynamic stretches during the travel portion.
2 squats. Jog 100 meters.
3 squats. Jog 100 meters.
4 squats. Jog 100 meters.
5 squats. Instead of jogging, do a set of 100-meter walking lunges with a sandbag chest carry to simulate log PT
Sets 6-10:
For the next five sets, add weight for each of the squats using a shoulder carry sandbag or by carrying kettlebells or dumbbells in your hand.
On the tenth set, do the 100-meter walking lunge with weight as well.
Mix in a few dynamic stretches for the first or last 25 meters of each 100-meter jog. This totals 55 squats and 1,000 meters of jogging and dynamic movements plus 200 meters of walking lunges so far. At this point the warm up should start to feel more like a workout.
The Reverse Side of the Pyramid: Continue with the weighted options for the squats as well as the 100-meter walking lunge set after set 15.
Sets 9-6: These sets are still tough, but each set will get a little easier. Just keep moving. Essentially, this is still part of the workout phase, but it is almost over.
Sets 5-1: The Cooldown – The next five sets are meant to be easy without weight. Mix dynamic and static stretches into each set and during the travel 100-meter phases.
5 squats, nice and slow, and jog 100 meters but mix in some dynamic stretches during the travel portion.
4 squats. Jog 100 meters.
3 squats. Jog 100 meters.
2 squats. Jog 100 meters.
1 squat. Instead of jogging, do a set of 100-meter walking lunges with or without a sandbag chest carry.
In the end, you will have added another mile to your distance with this workout plus you'll have 100-300 squats and 400 meters of lunges (both weighted and non-weighted).
Obviously, this is an advanced-level workout and it is not recommended if you are not used to this kind of volume on your leg days. You can use it as a way to prepare for the Murph coming up later this year.
Spending a few months to build up to three squats per set of the pyramid is recommended. Being able to handle high-volume repetitions and miles in the legs and lungs is part of the game with long events in many military training, especially those that involve rucking, equipment carry and other load bearing activities.
Stew Smith is a former Navy SEAL and fitness author certified as a Strength and Conditioning Specialist (CSCS) with the National Strength and Conditioning Association. Visit his Fitness eBook store if you're looking to start a workout program to create a healthy lifestyle. Send your fitness questions to stew@stewsmith.com.
Want to Learn More About Military Life?
Whether you're thinking of joining the military, looking for fitness and basic training tips, or keeping up with military life and benefits, Military.com has you covered. Subscribe to Military.com to have military news, updates and resources delivered directly to your inbox.
© Copyright 2021 Military.com. All rights reserved. This material may not be published, broadcast, rewritten or redistributed.