This Full-Body Workout Features a Mix of Volume, Cardio and Strength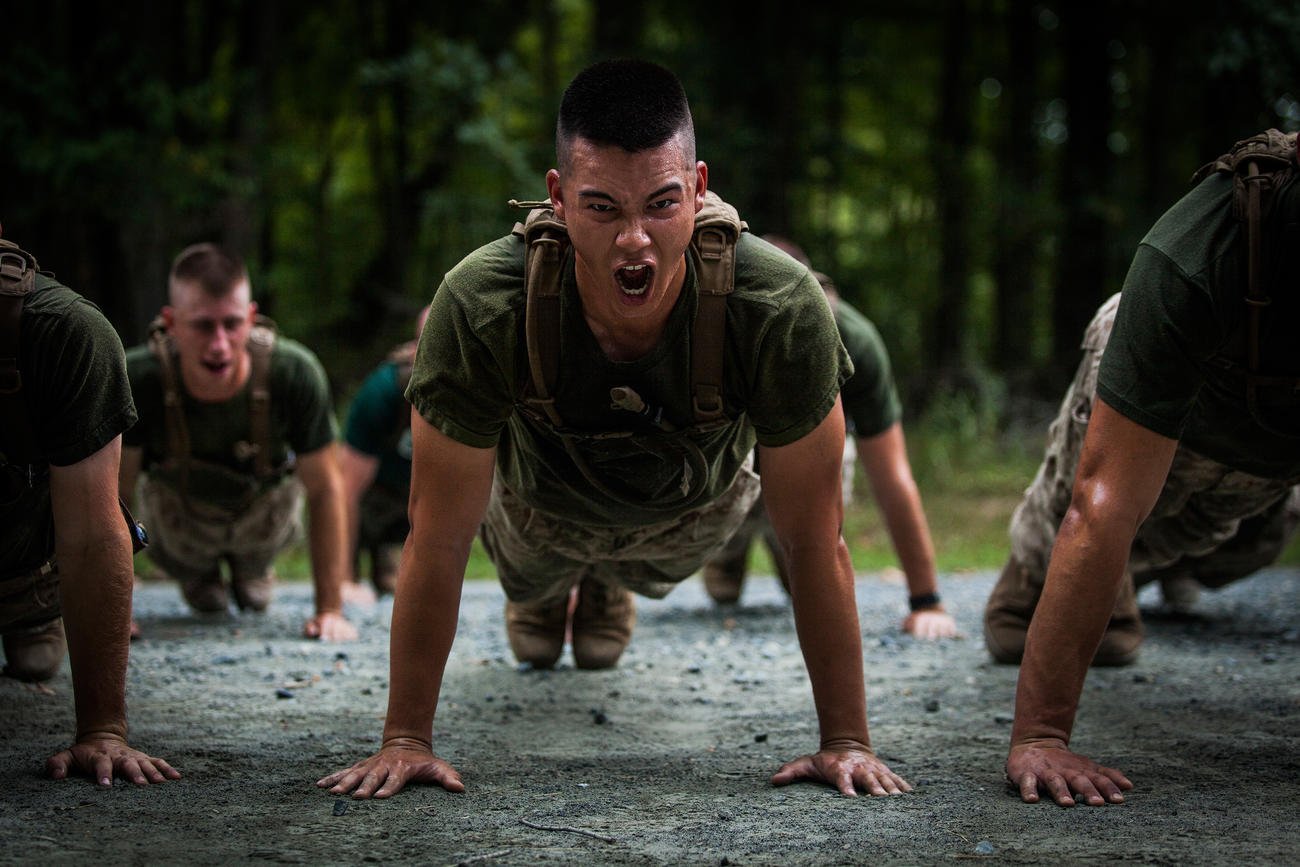 One of our crowd's favorites is a mix of calisthenics and short run warm-ups that include a timed run event. That's followed by some full body lifts, carries, core and running circuits. The grand finale is a ruck or swim, depending on which program is in your future or what your current weakness is.
Here is the workout from top to bottom. You'll find that it's a good way to get full-body resistance training and cardio at different speeds in one session.
You could also break it up into two sessions if you do not have the 90 to 120 minutes it takes to do these events.
The warmup is a progressively faster run over the last five sets, mixed with a sub-max effort on the three main calisthenics of push-ups, pull-ups and squats. We do this on an outdoor pull-up bar where we can perform a 100-meter (2 x 50-meter) run or jog in between each set.
Repeat 10 times
Run: 100 meters or 2 x 50-meter shuttle runs
Push-ups: 10
Squats: 10
Pull-ups: 5
This will total 1000 meters of running, 100 push-ups and squats, ending with 50 pull-ups. If that's too much to be a warmup for you, you can make it the bulk of your workout and stop or move onto the next event.
Run 1.5 mile timed
You can choose the distance of this run. Time a 1-mile, 1.5-mile or 2-mile run depending on the requirements of the fitness test for which you are preparing. If you want to do two to three miles for this run, use some of the 800-meter sets below and add them to this section.
These next two sections are the meat of the workout and focus on both running pace (mainly used as an active recovery run or stay warm exercise especially if working in the cold) and some full body elements:
Repeat 5 times:
Run 800-meter goal pace
Bicep or Military Curl: 10
Lunges: 10 per leg
Farmers Walk: 100 meters
Hanging knee-ups: 10
Repeat 3 times:
Bench Press: 10
Pull-ups: max
Add in a short run in between sets if you prefer or bike two minutes for an active recovery.
Depending on your weakness or future service challenges, take a pick of the ruck or swim workout. If you have the time and energy to do both, go for it.
Land or Sea (or both):
Ruck for three miles or swim 500 meters for time using CSS and no fins. Then swim 1,500 meters with fins for time.
Both of the events, ruck and swim, will be tested regularly in a variety of special ops programs, so getting good at both will be helpful in your preparation for those regular tests. If you are more focused on land-based training, then do not worry about the swim unless you need a break from the impact of rucking.
If you are considering a diving-based program in the military, you will definitely need to add some form of swimming to your training. It's not just swimming. Swimming with fins, treading water and general water confidence skills also need regular practice.
My advice if you're going for land-based training: Do not skip leg day or rucking.
If you're going for diving-based training: Do not skip leg day or swimming with fins.
There may even be a need to get good at both rucking and swimming. If that is the case, do both. They do not need to be done back-to-back and can be separate sessions on the same day.
By the end of each week, you will want to show progress in your time under load and your time in the water until you have confidence in both.
Stew Smith is a former Navy SEAL and fitness author certified as a Strength and Conditioning Specialist (CSCS) with the National Strength and Conditioning Association. Visit his Fitness eBook store if you're looking to start a workout program to create a healthy lifestyle. Send your fitness questions to stew@stewsmith.com.
Want to Learn More About Military Life?
Whether you're thinking of joining the military, looking for fitness and basic training tips, or keeping up with military life and benefits, Military.com has you covered. Subscribe to Military.com to have military news, updates and resources delivered directly to your inbox.
© Copyright 2020 Military.com. All rights reserved. This material may not be published, broadcast, rewritten or redistributed.