Navy Grounds New Fire Scout Helicopter Drone After Back-to-Back Mishaps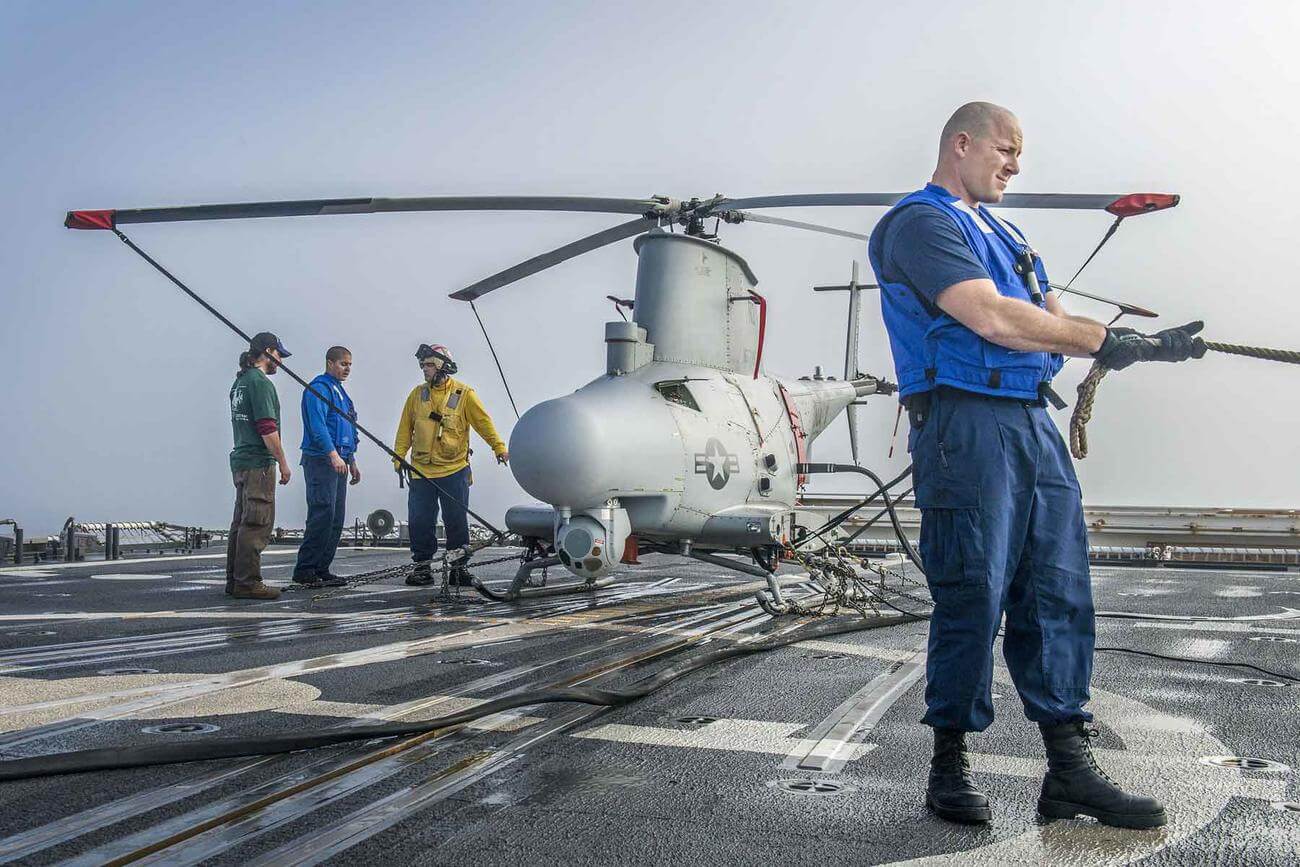 The Navy has paused operations for all of its new MQ-8C Fire Scouts after two of the unmanned helicopters were involved in separate accidents less than a week apart.
The Naval Safety Center recorded a pair of separate mishaps involving Fire Scouts in mid-November. One occurred in Maryland on Nov. 16 and the other six days earlier in California.
Both were listed as Class A mishaps, meaning the aircraft likely suffered at least $2.5 million or more in damage. The Navy, because of the incidents, has halted all Fire Scout flights.
Read Next: Army Hits Back Against False Claim that Soldiers Died in CIA Op to Nab Election Servers
"All MQ-8C flights and ground rotor turns are on operational pause during the investigation," said Jamie Cosgrove, with Naval Air Systems Command.
The Nov. 10 mishap happened at Naval Air Station Point Mugu in California. The Fire Scout crashed on its final approach to a designated touchdown point. No one was injured.
Less than a week later, a Fire Scout became unresponsive at Naval Outlying Field Webster in Maryland while the aircraft was chocked and chained during a high-power maintenance ground turn to test a new battery, the Safety Center reported.
"Rotor blades ultimately came in contact with the ground causing blade separation and aircraft damage," the report states.
Officials declined to discuss possible causes of the incidents, which both remain under investigation. The Navy takes every aircraft mishap extremely seriously, said Cmdr. Zach Harrell, a Naval Air Forces spokesman.
"We will examine the results of the investigation and apply lessons learned throughout the force as appropriate so that we can become even better operators and maintainers," he said.
The MQ-8C Fire Scout is a sea-based, vertical lift unmanned system meant to provide reconnaissance, situational awareness, and precision targeting support for ground, air and sea forces, according to the Navy. Two squadrons operate the aircraft — Helicopter Sea Combat Squadron 23 on the West Coast and HSC-23 on the East.
The 31-foot unmanned aircraft is designed to deploy on littoral combat ships.
MQ-8Cs have completed more than 2,000 flight hours, most of which were flown by Naval Air Systems Command test squadrons, Harrell said. HSC-22 and HSC-23 continue to train on the MQ-8C to build proficiency, he added.
— Gina Harkins can be reached at gina.harkins@military.com. Follow her on Twitter @ginaaharkins.
Related: Navy's Fire Scout Drone Helo May Be Sold to Allied Militaries Soon
© Copyright 2020 Military.com. All rights reserved. This material may not be published, broadcast, rewritten or redistributed.