The 9 Best Home Workout Systems for the Next Lockdown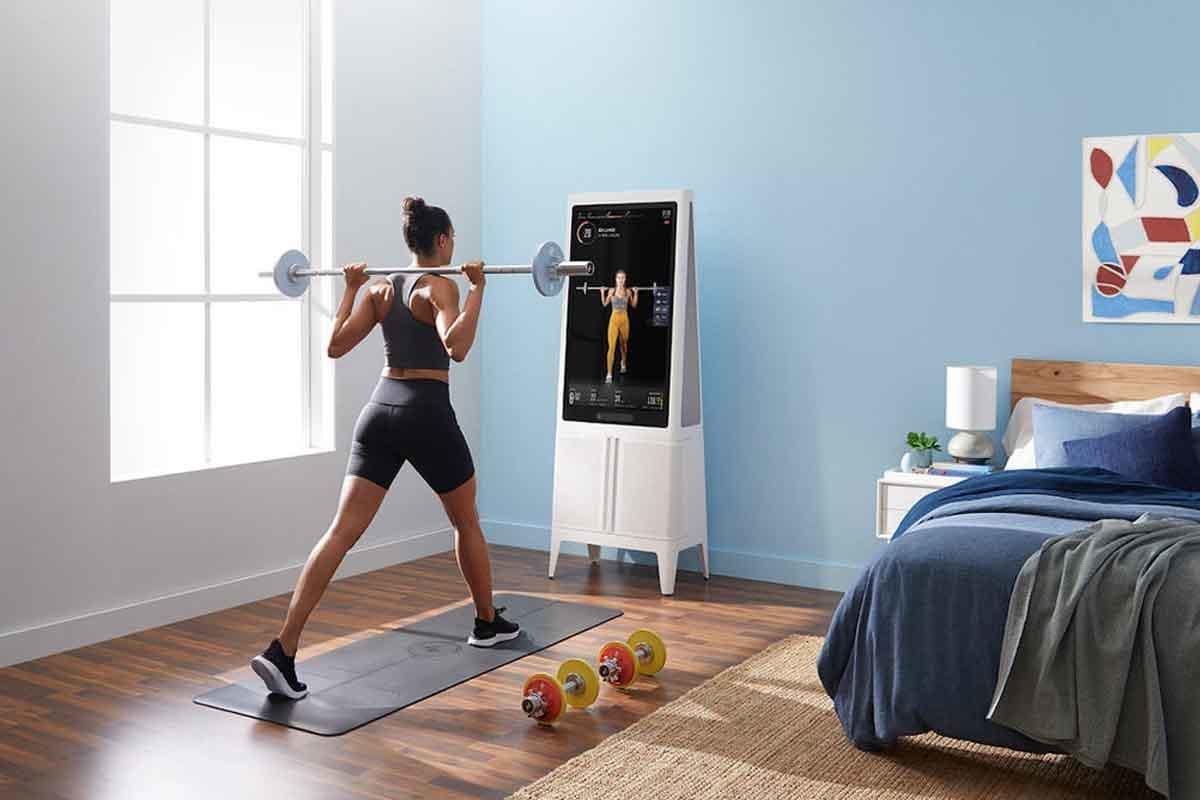 A new, nationwide wave of shutdowns and curfews will soon be upon us. That means gyms will be re-closing along with everything else.
The first time the United States shut down to stop the spread, many of us embraced the break while others just went with it. Most of us didn't have a choice. This next time will be different, as a slew of affordable home workout systems have emerged to offer us the ability to "get at it" at home — because kettlebells and free weights are just too expensive.
In the short term, these will help us stay in shape physically and mentally. In the long term, we might appreciate the extra $30 to $80 in our pockets every month saved by not having a gym membership, so choosing a home gym might be something we want to invest in.
Here are some of the best, broken down for every budget.
High-End Home Fitness
Those who are ready to ditch their gym passes forever (or who just might have the cash to spare from not eating out all the time) and want to really invest in their home gym can now do so in a (reasonably) affordable — and advanced — way. It just costs a little more.
1. Peloton: $1,895-$4,865 + Subscription
This is the home cardio system that kinda started it all. While the Peloton spinning bike is probably the best-known system, Peloton also offers a treadmill with a similar program. Once you tack on the monthly subscription fee, it can get pricey.
Despite the price, the home cardio enthusiast (or veteran who can't run on pavement because they have no cartilage left in their knees) might easily see justifying the cost. Finance options are available.
2. Tempo Studio: $1,995 + Subscription
Like the Peloton, Tempo Studio also offers guided workouts and real-time feedback through classes and coaching. Unlike the Peloton, Tempo Studio is for lifting and uses real weights, dumbbells and barbells.
For the experienced lifter, however, the price could get a little higher because the basic package only comes with weights up to 10 pounds. The 25-45 pound weights are extra. Any plate weights you already have are said to fit the Tempo Studio barbell, however.
3. The Mirror Home Workout System: $1,495 + Membership
The Mirror is just what it sounds like, it looks like a mirror in your home and workouts are projected onto the screen. If you have no workout gear to speak of, then the Mirror might be for you. Its membership service offers classes based on what you have to work with, be it kettlebells, a yoga mat or even nothing at all. Bring what you already have.
Mid-Range Home Fitness
There are a lot of good options in the mid-range home fitness area, which makes it hard to choose. Be sure to consider what's most important to you when making a decision. These options were chosen for value, versatility and compactness.
1. Hyfit Gear 1: $250 + Optional App Subscription
Developed by fitness enthusiasts who were serving in the Israel Defence Forces, Hyfit is truly the most versatile home fitness system out there. It's a resistance band-based workout that can be set up almost anywhere and offers up to 120 pounds of resistance. Whether your pre-COVID workout was weightlifting, HIIT or even yoga, Hyfit has an option.
All that and the entire system, including data tracking gear fits into a nylon bag no bigger than your laundry bag.
Read: Train Like an Israeli Tank Gunner with This Home Fitness System
2. BowFlex PR1000 Home Gym: $599
This one is for the gym traditionalist who doesn't want to figure out how to rig a workout from a tree or doorframe. It looks more like a weight bench and acts in much the same way. It offers 30 exercises for a full-body workout and even comes with a row station.
While it is considerably less portable than other options on the list and looks like it takes up way more space than anything else, the BowFlex PR1000 does fold down into a compact storage mode.
3. BodyBoss Total Workout System: $255.00 + Free App Subscription
Though not as compact as the Hyfit Gear 1, the BodyBoss Total Workout System does have its benefits. This resistance band-based workout system still fits compactly into standard luggage and offers new classes daily on a free app.
It's a full-body workout system (including barbells) that uses a base plate or door frame holder to anchor the bands. Optional gear includes data sensors that can track your workouts' weight and intensity over time.
Budget Home Fitness
There's no shame in penny-pinching in times like these. Saving money is why we're opting into getting fit at home in the long run. But that doesn't mean we have to sacrifice quality or the range of workout available to us. In fact, there are very good options for the budget fitness enthusiast these days.
1. TRX Full Body Workout Bundle: $199 + Optional App Subscription
The biggest name in suspension strap workouts has options for the post-gym COVID lockdown world. TRX suspension systems have the ability to be set up almost anywhere, but have the riggings for door frames and other places (like trees!), and the TRX Full Body Workout Bundle is no different.
While I mention the full body system, TRX offers a number of other strap bundles, including just for core exercises, at various prices, both higher and lower than $199.
2. The Original Gorilla Bow: $159.20 + optional training sessions
There are few things more simple than this resistance band workout. The Gorilla Bow is just what it sounds like, workout equipment in the vein of an archer's bow. The Gorilla Bow offers just as many exercises as many of the other systems on this list, along with varying levels of resistance. The difference is that you are the anchor.
So take this bad boy on a hike and do your weight training in nature's glory. Or pay for optional personal fitness training at home for $24.99 (a price you'll never get with an in-person trainer). Either way, you'll feel just as good.
3. Weider Ultimate Body Works: Around $186.00
Weider is one of the leading brands in home gym equipment and the company has created a home gym system that offers 50 workouts and is very affordable. The Weider Ultimate Body Bench can hit every muscle group and can be purchased at Wal-Mart or on Amazon.
The only downside is knowing those workouts. But if you're willing to take the time, there are a number of YouTube tutorials that specifically instruct on the use of this widely-available incline bench-based workout system.
— Blake Stilwell can be reached at blake.stilwell@military.com. He can also be found on Twitter @blakestilwell or on Facebook.
Want to Learn More About Military Life?
Whether you're thinking of joining the military, looking for fitness and basic training tips, or keeping up with military life and benefits, Military.com has you covered. Subscribe to Military.com to have military news, updates and resources delivered directly to your inbox.
© Copyright 2020 Military.com. All rights reserved. This material may not be published, broadcast, rewritten or redistributed.