Trump Says He'll Reverse Navy's Move to Make SEAL Ethos Gender-Neutral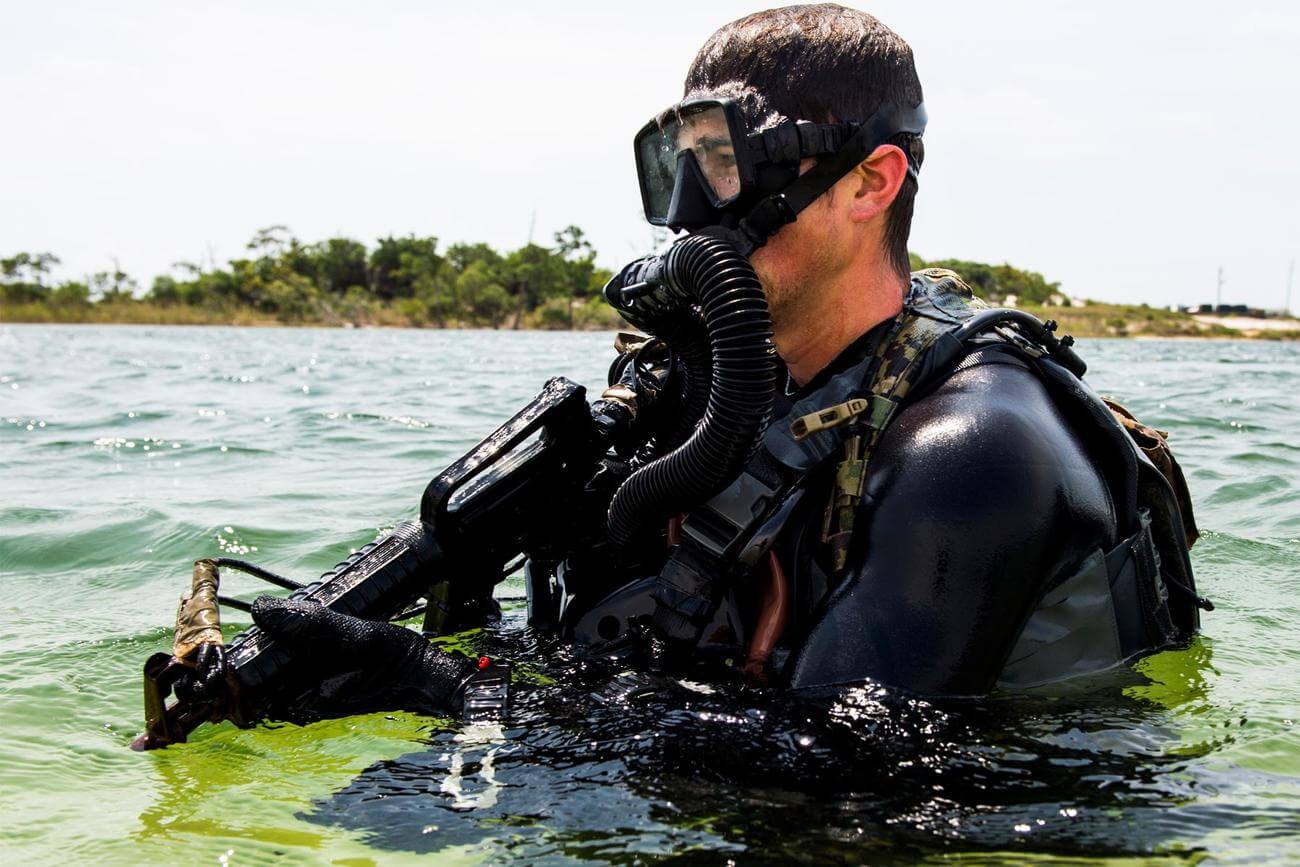 The commander in chief has pledged to reverse a change to the Navy SEALs' ethos that was endorsed by the special operations command's senior leaders.
Naval Special Warfare Command recently changed the ethos and creed for its operators to make them gender neutral. Changes included dropping the words "brotherhood" and "men" years after all military combat roles — including those in special operations — opened to women.
"I will be overturning this ridiculous order immediately!" President Donald Trump tweeted on Thursday.
Read next: Marines 'Looking at All Options' When It Comes to Future Boot Camp Locations
Trump included a retweet from the Columbia Bugle, an anonymous right-wing Twitter account that linked to a report about the change, calling on Trump to "Drain the Pentagon Swamp!" referring to one of the president's campaign slogans.
Officials with Naval Special Warfare Command did not immediately respond to questions about how leaders there will respond to the president's tweet. The updates, which included changes to the SEAL ethos and creed for special warfare combatant crewmen, were "overdue," Lt. Matthew Stroup, a spokesman for the command, told Task and Purpose this week.
"The previous versions of the SEAL Ethos and SWCC Creed were written prior to the law allowing women to serve as operators in Naval Special Warfare," Stroup told Task and Purpose, adding that the changes were "favorably endorsed" by each of the unit's major commanders and command master chiefs.
The SEAL ethos swapped the phrases "common man" and "brave men" for "common citizens" and "brave SEALs." The special warfare combatant crewmen's creed switched from including "elite brotherhood of sailors" to "elite group of maritime warriors."
The Navy is not the first service to take steps to make titles, songs and other references gender neutral.
The Marine Corps in 2016 dropped the word "man" from 19 of its job titles, including infantryman and reconnaissance man, which became infantry Marine and reconnaissance Marine. And in February, the Air Force updated its song, sometimes known as "Wild Blue Yonder," to make it gender neutral.
This isn't the first time Trump has taken to Twitter to call out affairs within the Navy's special operations command. In November, he tweeted that the Navy would not be taking away SEAL Eddie Gallagher's coveted trident pin.
"This case was handled very badly from the beginning," Trump tweeted at the time, referencing Gallagher's lengthy legal battle after he was accused and later acquitted of murder. "Get back to business!"
— Gina Harkins can be reached at gina.harkins@military.com. Follow her on Twitter @ginaaharkins.
Related: Navy Updates SEAL Ethos with Gender-Neutral Language
© Copyright 2020 Military.com. All rights reserved. This material may not be published, broadcast, rewritten or redistributed.