Ask Stew: Going Into Winter Lift Cycle But Already Strong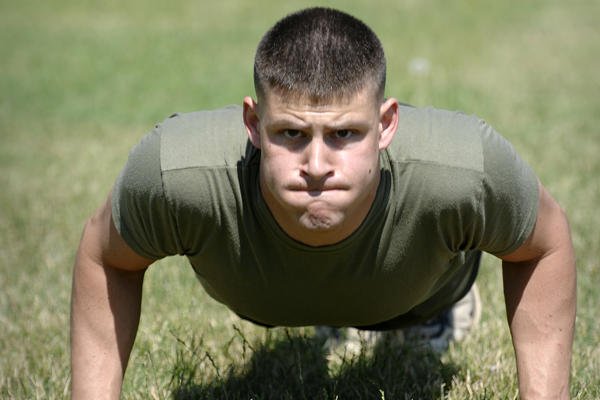 If you are preparing to join the Armed Forces, you might bring some strengths to the table thanks to your athletic history or training programs. But you might also have some weaknesses that need to be resolved during the preparation phase.
If you have an athletic history of playing contact sports, there is a good chance that you already have a certain amount of strength, power, speed and agility. However, you might lack the ability to run or swim for long periods of time, be unable to pass competitive timed runs at 1.5-3 mile distances or not have the muscle stamina for two-minute calisthenics fitness tests. Lacking endurance and strength-endurance (also known as "muscle stamina") is common for the strength and power athlete.
Here is a question from a young man who lifts and thinks anything over 100 meters is long distance running:
Hey Stew – I am following your training philosophy for transitioning out of athletics into becoming a more well-rounded tactical athlete (tactical fitness periodization) and have enjoyed the cardio and calisthenics since COVID kicked me out of the gym. I needed the change and it has helped, but now your program has us moving back into lifting in the fall and winter. I need to maintain what I have gained with endurance and PT ability. Any suggestions as to how I move forward without overdoing cardio and high rep but not lifting too much either? Thanks – James, future Army Ranger.
James – it is great to hear you were able to take advantage of your time with no gym availability and get some needed focus on your endurance and high repetition calisthenics. These last six months are exactly what you needed in the first place.
If you had asked me what you should do to prepare, I would have sent you on the calisthenics and cardio mission since that was a weakness you needed to fix when preparing for military service and especially Army Ranger training.
I have a system that I use with strength and power athletes when they join us in the middle of our fall and winter lift cycles. We basically cut the weight lift in half and double the cardio.
For you specifically, I would mix in more non-impact cardio options versus adding more miles of running, but you could also replace some of the running that you are doing with preparation for the load-bearing challenges of your future selection. That means rucking!!
To personalize your program, I would warm up well with calisthenics (pull-ups, push-ups, squats, lunges on upper and lower body days, respectively) and also consider a normal weight training workout cycle. Instead of 4-6 sets, do only 2-3 sets for the lift portion.
Then, cool down with a mix of biking, running, weight vest walking or rucking or do any other cardio option you choose. Just remember that the running progression you have been on is tough to maintain throughout the year (especially if you are over 200 lbs.), so you may want to opt for some non-impact cardio or start preparing for rucking in the Army a few times a week.
In conclusion, the endurance challenge of this journey will be your biggest focus as you are likely already strong enough to handle the loads of gear, equipment and rucking. The Winter cycle is just a good way to reduce your total running miles per week and increase non-impact options to keep working the lungs and legs. For you and your Army journey, add a rucking progression to change things up during this phase. Then, in the spring and summer, you can go back to focusing on calisthenics, cardio and supplement a few lifts into the week as desired.
Stew Smith is a former Navy SEAL and fitness author certified as a Strength and Conditioning Specialist (CSCS) with the National Strength and Conditioning Association. Visit his Fitness eBook store if you're looking to start a workout program to create a healthy lifestyle. Send your fitness questions to stew@stewsmith.com.
Want to Learn More About Military Life?
Whether you're thinking of joining the military, looking for fitness and basic training tips, or keeping up with military life and benefits, Military.com has you covered. Subscribe to Military.com to have military news, updates and resources delivered directly to your inbox.
© Copyright 2020 Military.com. All rights reserved. This material may not be published, broadcast, rewritten or redistributed.