Blue Star Families Launches the 2020 Military Family Lifestyle Survey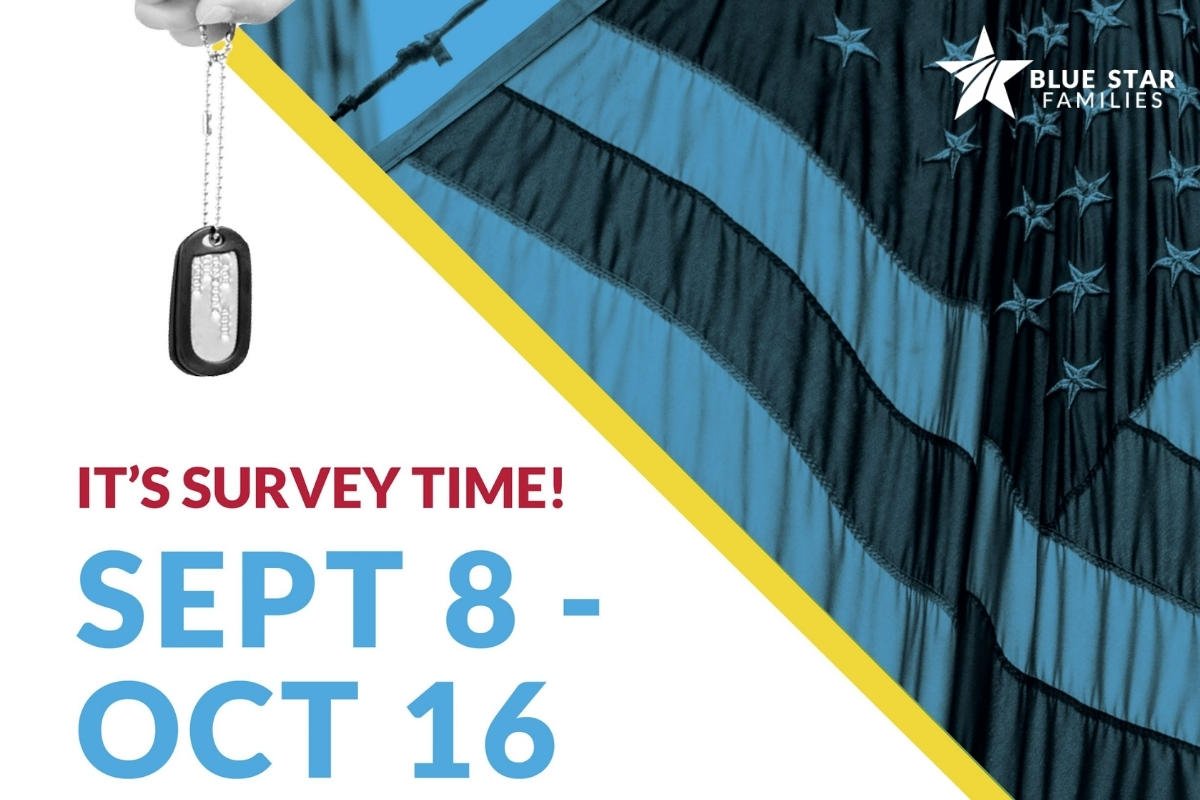 Seeking military-connected individuals to participate and be a voice for their community
Each Veterans Day, Americans remember and reflect on the sacrifice of those who've served our country. But many still don't truly understand what those sacrifices include, or how military life can impact not only the veteran, during and long after their service, but also their families.
In fact, Blue Star Families' 2019 Military Family Lifestyle Survey found that only 8% of active-duty family member respondents and 11% of veteran family respondents felt the general public truly understood the sacrifices made by military service members and their families.
Working to bridge this civil-military gap, Blue Star Families creates connections between military families and the civilian communities in which they live through 11 on-the-ground chapter locations, as well as programs such as Blue Star Books, Blue Star Parks and Blue Star Careers. Additionally, since 2009, Blue Star Families has conducted its annual Military Family Lifestyle Survey (aMFLS) to gather the voices of active-duty troops, veterans, National Guard and Reserve members, and their families, revealing how the military lifestyle uniquely impacts them.
As the largest survey of its kind, the input provided by military-connected individuals in the aMFLS offers a comprehensive yearly "snapshot" of military families, presenting crucial insight and data to inform program and policy changes.
For example, top political influencers at the White House, Congress and the Department of Defense cite the survey. It is also widely used by renowned research leaders and high-profile national media. Not to mention, senior DoD leaders, civilian leaders such as school administrators and elected officials, lawmakers, philanthropies, corporations and other veteran and military service organizations rely on the survey to stay up-to-date on issues that are most important to those who serve.
Just this year, the survey led Blue Star Families staff to testify before Congress on veteran food insecurity; informed bills like Connecticut Sen. Richard Blumenthal's Command Accountability for Military Family Readiness Act; and provided guidance to corporations to direct their giving initiatives.
Of course, perennial military family lifestyle issues remain year after year — from military spouse under- and unemployment to military child education, financial readiness, veteran transition, time away from family (e.g., deployment), and caregiving. While the 2020 survey will continue to focus on those challenges, it will also explore new, timely areas, such as the impacts of COVID-19, voting and voter registration, parents of service members, and the experiences of Black and Hispanic/Latinx military families.
Now through Oct. 16, active-duty, National Guard, Reserve and veteran service members, as well as their families, have the opportunity to be a voice on these efforts during the 11th annual fielding of the aMFLS. Find the survey here.
This year's survey, which is intended to take about 30-35 minutes to complete, is designed by Blue Star Families, in collaboration with Syracuse University's Institute for Veterans and Military Families (IVMF) and with the support of presenting sponsor USAA. Survey results will be released in early 2021.
© Copyright 2020 Sponsored by Blue Star Families. All rights reserved. This material may not be published, broadcast, rewritten or redistributed.