Army Moves to Kick Out 3 Unit Leaders After Deadly Bradley Accident in Korea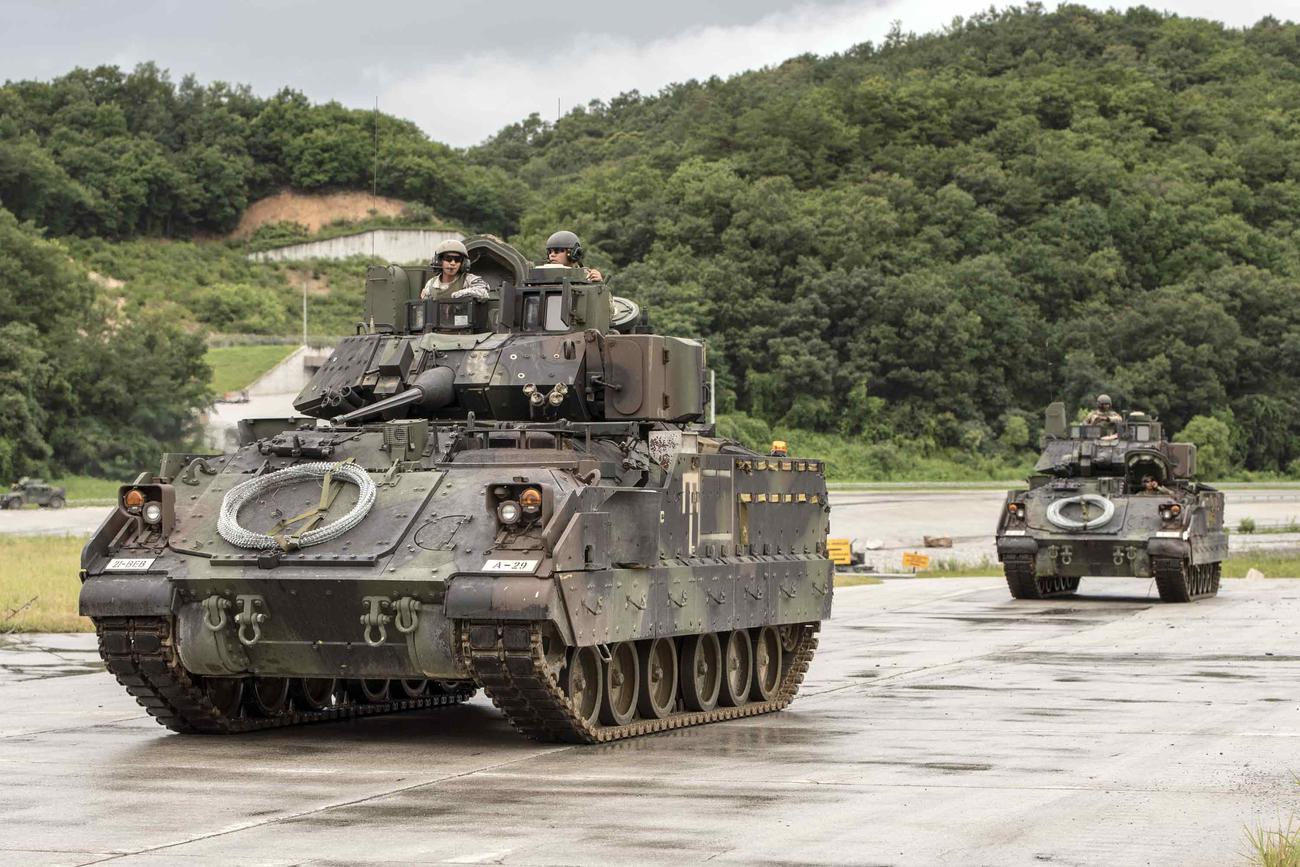 The Army's 1st Cavalry Division has ordered changes to its driver training program and is kicking two company-level officers and a staff sergeant out of the Army as the result of an investigation into a deadly Bradley fighting vehicle accident in Korea last year.
Spc. Nicholas Panipinto was killed when the right-hand side tread of the M2A3 Bradley came off and caused the massive vehicle to roll over during a Nov. 6, 2019 road test at Camp Humphreys, South Korea.
Before the road test, Panipinto had received only six hours of hands-on driver training and no classroom instruction.
Read Next: Their Sons Died in Accidents at Fort Hood. Now They're Joining Forces to Call for Change
Current Army regulations require three days of classroom instruction and two days of hands-on driving experience, with an instructor, before military personnel are given licenses to drive Bradleys.
"He never should have been behind the wheel," Kimberly Weaver said she was told during an investigation brief meeting with Col. Kevin Capra, the commander of the 3rd Armored Brigade Combat Team (ABCT).
As result, all 37 companies in the 3rd ABCT were "ordered to reassess their driver's training programs and to back brief battalion commanders on the status of the programs, ensuring that all driver training programs … are enforced to Army standard," according to a briefing slide from the meeting.
There were also malfunctions of the vehicle's communication systems, defective or broken equipment, a lack of medical services on base, and significant delays in medical response to the scene of the accident that day.
Camp Humphreys did not have an on-campus hospital or even a military ambulance available to quickly transport Panipinto for emergency treatment, Rep. Vern Buchanan, R-Florida, wrote in a June letter to Defense Secretary Mark Esper.
A civilian ambulance responded to the accident scene, but it did not have a sufficient oxygen supply. Its suction equipment also had stopped functioning and it didn't have a blood transfusion supply and the instruments needed to treat Panipinto were unavailable, Buchanan wrote.
The medical response was further delayed when the first on-base medical evacuation helicopter dispatched to the accident scene initially got lost, and a second medevac helicopter suffered from mechanical problems, the letter adds.
Eventually, the first medevac helicopter arrived at the site 80 minutes after the accident, according to the letter.
Buchannan has since called on the House Armed Services Committee to hold a public hearing on the increase in military training vehicle accidents.
The investigation resulted in stiff punishments for Panipinto's immediate chain of command.
"The company commander, platoon leader and Bradley commander received letters of reprimand and were initiated for involuntary separation," from the Army, according to the briefing slide.
The staff sergeant serving as the Bradley commander also "received non-judicial punishment and was reduced in rank."
Capra would only say that the investigation "resulted in non-judicial punishment for those found at fault for actions that contributed to the incident," according to a written statement to Military.com.
Capra described Panipinto's death as a "terrible tragedy" but said he was confident that the outcome of the investigation would help to prevent future accidents.
"The unit increased their focus on driver's training; improving the quality, frequency, and record keeping for the driver's training program to ensure all those operating combat vehicles were trained and licensed properly," Capra said in the statement.
Weaver said she couldn't help but feel sorry for the three junior leaders who were blamed for the accident and wondered why no higher-ranking leaders were disciplined.
"They are just kids; somebody should have been watching all of them," Weaver said, adding that she couldn't stop being frustrated over the number of mistakes that were made.
"It's just the amount of them — no medical facility, the medevac getting lost, the other one not even starting and the not sufficient medical supplies."
U.S. Forces-Korea also ordered an examination into the emergency medical care offered across all military bases throughout the Korean peninsula, according to the briefing document.
— Matthew Cox can be reached at matthew.cox@military.com.
Related: Lawmaker Calls for Public Hearing on 'Disturbing Rise' in Deadly Military Training Accidents
© Copyright 2020 Military.com. All rights reserved. This material may not be published, broadcast, rewritten or redistributed.