Review Launched into Allegations of Racial Persecution, Bias at West Point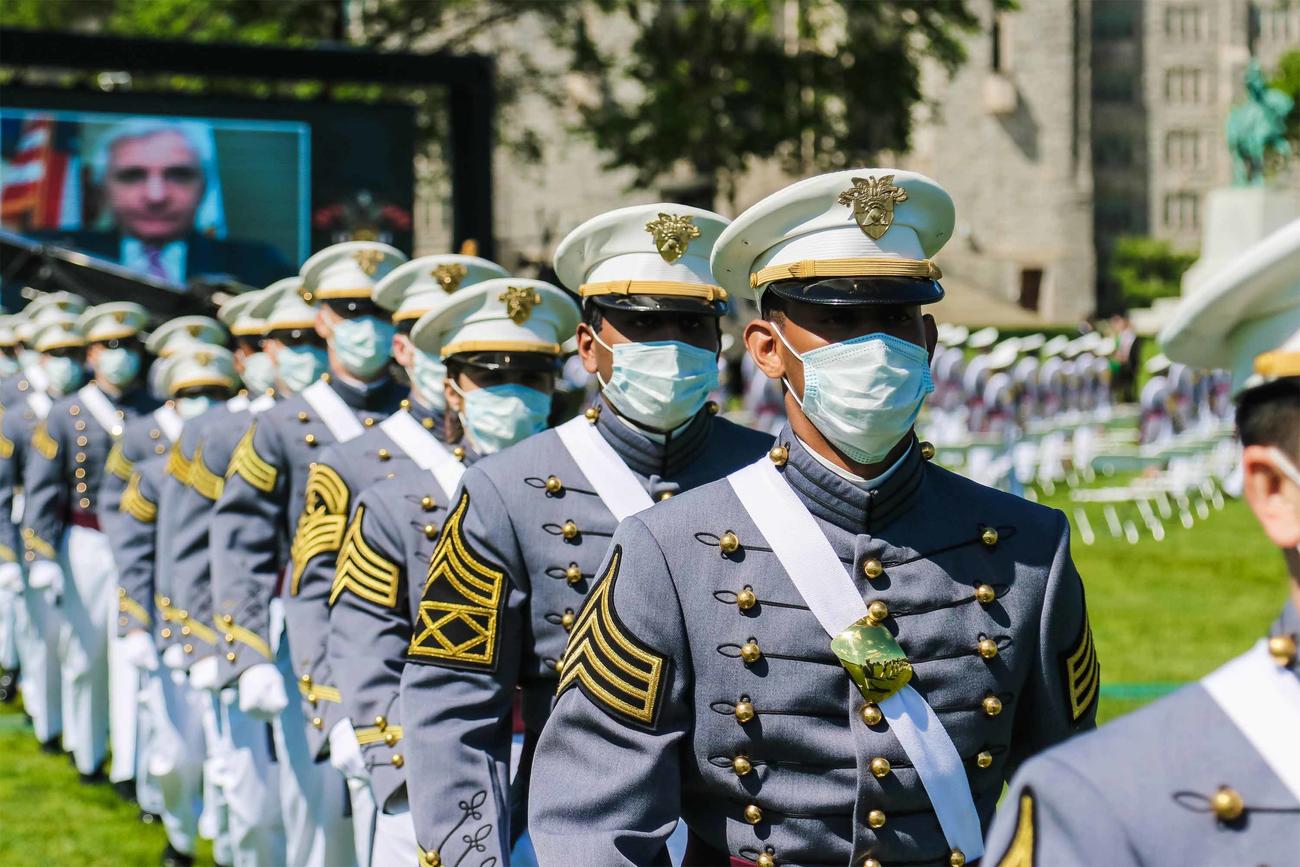 The Inspector General at the U.S. Military Academy at West Point has launched a review of all racial matters at the school after Black graduates recently alleged to have suffered racial persecution at the esteemed institution, school officials told Military.com.
Former West Point cadets submitted a 40-page proposal to create an "Anti-Racist West Point" that calls on the school's leadership to uproot systemic racism, which includes removing all memorials to Confederate leaders.
Read Next: Army Private Pleads Not Guilty to Planning Deadly Ambush on His Unit
The June 25 proposal lays out an in-depth plan for "uprooting the racism that saturates" the history of an institution charged with creating future Army officers.
"We encourage you to read this proposal in its entirety in order to understand the prevalence of racism at the Academy and our vision for its elimination," the proposal states. "Though we are deeply Disturbed, we hold fast to the hope that our Alma Mater will take the necessary steps to champion the values it espouses. Now is the time for action."
The proposal comes as the entire country wrestles with racism in the aftermath of violent civil unrest in early June triggered by the death of George Floyd, an unarmed Black man who died while in the custody of Minneapolis police.
Business Insider first reported on the policy proposal, which includes personal testimonies of current and former cadets who claim to have endured severe racial harassment.
First Lt. Simone Askew, who graduated in 2018, wrote a personal narrative in the proposal, titled "The Endemic of Anti-Blackness."
The Rhodes Scholar described how she encountered racism after becoming the first Black woman to become West Point's First Captain, a coveted leadership role responsible for overseeing more than 4,000 cadets.
"It was late, and I was headed to my room. There waiting for me was a small, white note, inserted underneath my door," she wrote. "I opened the folded page, which bore no signature. Inside was a picture of me holding a rifle, photoshopped with a monkey's face over my own."
Askew was aware of the racist history of portraying Black people as monkeys, but she wondered if the depiction "suggested something deeper about my leadership," she wrote.
"Racing through my mind were all the presentations and conversations that I had given in the past 14 days as First Captain and whether I had made any mistakes," she wrote. "This self-interrogation fueled in me a paralyzing fear.
"I feared if others knew how deeply such an image impacted me that I would be told — as Black Cadets and Officers are often told — that this was not the first nor would it be the last time that I would experience racism, so I had better get used to it. Even worse, they would deem me as too emotional, dramatic, self-centered, weak, and 'always making it about race.'"
So, she said, she set out to perform flawlessly.
"After receiving a Rhodes Scholarship, I was optimistic that I had finally done enough. … However, more racist caricatures and comments continued to circulate online. One of the popular images even depicted me as Satan himself."
There are also many anonymous testimonies of racism shared by cadets during a survey conducted in spring 2020 regarding their experiences at West Point, according to the proposal.
One cadet wrote, "I was called a 'n—-r' during my freshman year at West Point. I was told that I was going to rob someone because I was Black. A student made a noose and put it on his Black roommate's desk as a joke. I was called 'white' because I speak intelligently, which is built on the assumption that white people speak better than Black people."
Another cadet wrote, "I had a racist roommate that would call me the n-word and spit on me. I told the 4th Regimental Tactical Officer about it, and they did nothing."
Another cadet wrote, "I have seen discriminatory punishments, in which an African American Cadet committed an infraction and received a company board with walking hours, whereas a Caucasian Cadet committed the same infraction and received only a verbal warning."
West Point officials acknowledged receiving the proposal and said the academy had already begun to take steps similar to the Army's recent move in launching Project Inclusion, an effort to root out unconscious bias in the ranks.
The academy, however, began a review that will look at all aspects of race on the campus after receiving the proposal, West Point spokesman Lt. Col. Christopher Ophardt said.
"The West Point Inspector General has begun a comprehensive review of all matters involving race at the Academy; we will carefully consider the results of this review and deliberately address any findings," Ophardt said.
"The Academy expects all cadets to be treated with dignity and respect. We take seriously all forms of racial inequality that marginalize or devalue members of our team. West Point does not accept, condone, or promote racism."
The proposal makes many suggestions for how the academy's leadership can begin to eradicate racism at West Point, such as the removal of all names, monuments and art honoring or venerating Confederate figures.
"A Cadet wakes up in Lee Barracks, which is named for Robert E. Lee, the West Point graduate who betrayed his country for the worst possible reason: to protect 'states' rights' to own slaves," according to the proposal.
Reconciliation Plaza, a monument built as recently as 2001, bears a list of the names of those Confederate officers who graduated from West Point, the document states.
A six-foot painting of Lee, it adds, hangs in the lobby of the library, "in which his Black slave stands in the bottom right leading Lee's white horse."
Graduates also want school officials to conduct a thorough investigation of West Point's donor practices and the influence donors have at the federally funded public institution, "in order to ensure that organizations such as the United Daughters of the Confederacy, who have previously contributed to white supremacist ideals at West Point, do not have the power to do so," according to the proposal.
The proposal also calls on the academy to conduct a comprehensive review of all courses to "ensure the inclusion of Black, Latinx, and other marginalized people in the authorship and production of course materials, course literature, and other course content."
A core academic class on the intersection between race, ethnicity, gender, and class should be created as a requirement for every cadet, the proposal states.
— Matthew Cox can be reached at matthew.cox@military.com.
Related: 'It's a Little Conflicting:' Guard Troops Hold the Line on Fellow Citizens in DC
© Copyright 2020 Military.com. All rights reserved. This material may not be published, broadcast, rewritten or redistributed.