Adding Weights During a Run and Calisthenics Cycle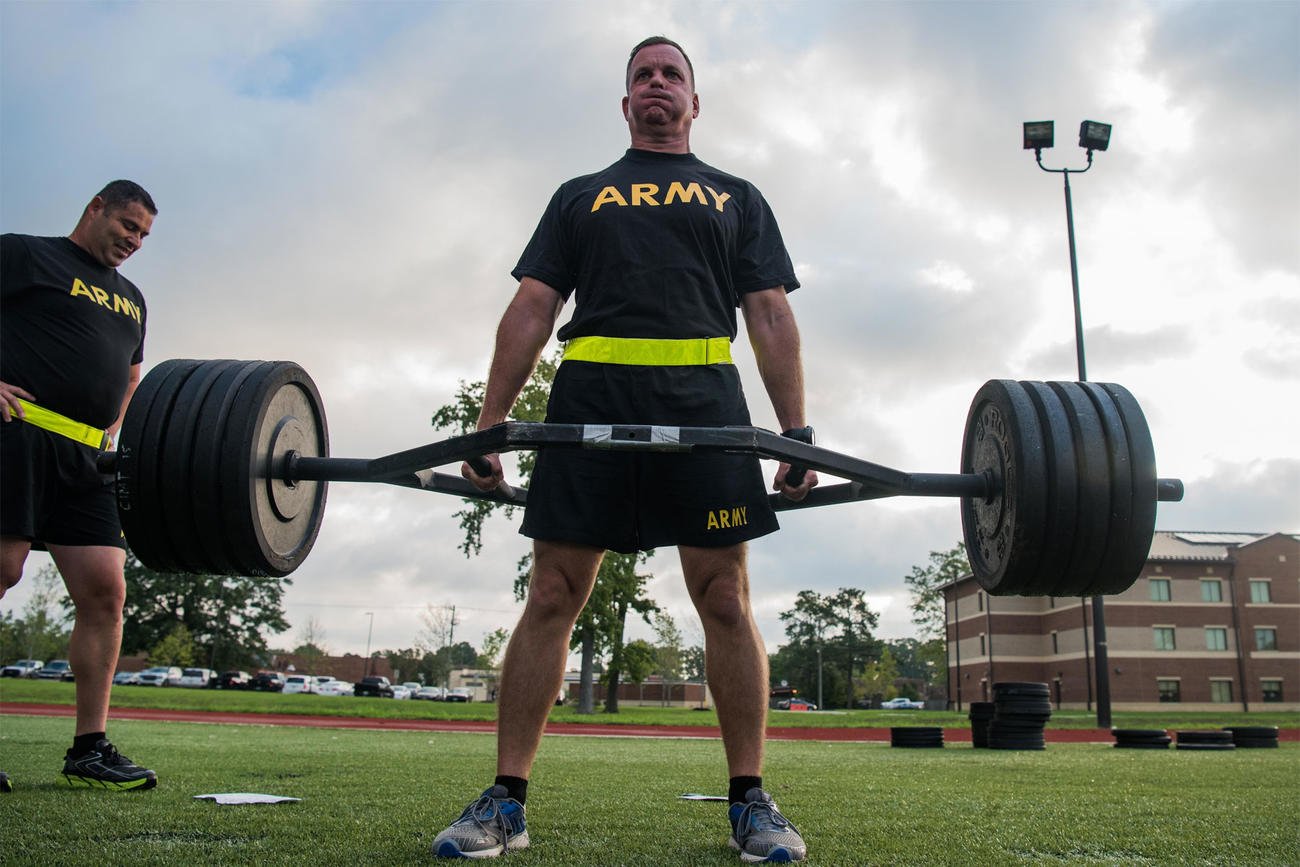 If you have followed my training, you know I have a system of seasonal periodization. For more than 20 years, I have personally used and taught this cycle to aspiring and active-duty tactical athletes with the purpose of thoroughly developing ALL the elements of fitness.
Getting good at all the elements of fitness is what differentiates the tactical athlete from the sports athlete, who just needs to develop a few specific elements of fitness depending on the sport.
When we discuss ALL the elements of fitness, we mean strength; power; speed; agility; endurance (run, swim and ruck); muscle stamina; flexibility; mobility; and grip. This is tactical fitness.
In today's workout of the week, we show how to add supplemental weight training to your endurance training cycle. This short workout offers just enough to help you maintain previous strength gains, as well as help you practice some of the testing events in new tactical fitness tests like the Army Combat Fitness Test.
Here is a supplemental weighted piece of a run day workout that we do once a week just to maintain some of the strength and power movements, while we mainly focus on muscle stamina with calisthenics and endurance training (run, ruck, swim).
Our workout starts out with a beach run (if you have a beach) as it challenges the legs more. However, if you have no beach, you could replace many of the miles with sets of hill work instead.
4-Mile Beach Run: Try to find soft sand that is flat. Avoid any uneven shoreline hard pack sand.
We do this series of sprint/calisthenics squats/stretching to prime our legs for lifting.
5 x 50-meter sprints on soft sand + 10 squats each set: These days, we have been bringing plates, bars, sandbags and kettlebells to the beach where we run. Many of these events will help prepare you for the new Army Combat Fitness Test strength and power events (deadlift, power throw). You can even mix in sprints or shuttle runs, with kettlebells and without.
Lift Section: This takes only about 20 additional minutes if you move through the events quickly, but rest as needed if you need more recovery time.
LIFT Optional:
Repeat 3 times
Sand Bag over head throw 5x
Hex Bar Deadlift 5x
Hang clean 5x/Push Press 5x (with dumbbells or barbells)
KB swings 20
KB run/farmer walk 50 meters (2×25 meters)
Sprint 50 meters (2 x 25 meters)
Mobility: Do this later in the day. Mix in non-impact cardio (bike, row, swim, etc.) and stretching (static and dynamic), as well as foam rolling or massage tooling. After this type of workout, you may find that cooling down is needed.
The mini-mobility day makes a great cooldown routine and takes 15 to 20 minutes. It is preferred that you do some form of non-impact cardio activity like swimming, rowing, biking or elliptical if possible, then devote an equal amount of time to dynamic stretching, static stretching, foam rolling or using a massage tool to help loosen up any tight muscles or other soft tissues.
Repeat 2 times
5 minutes cardio of choice
5 minutes stretch or foam roll
(mix in bike, elliptical, row, etc.)
You do not need to do this supplemental lift every leg day during a high-mileage cardio and calisthenics cycle. Usually one to two times a week is plenty, and the shorter amount of time lifting, the better. This is not the time to search for max load with heavy 1-rep max lifts. Keep the repetition range between 5 to 10 and focus on technique.
Stew Smith is a former Navy SEAL and fitness author certified as a Strength and Conditioning Specialist (CSCS) with the National Strength and Conditioning Association. Visit his Fitness eBook store if you're looking to start a workout program to create a healthy lifestyle. Send your fitness questions to stew@stewsmith.com.
Want to Learn More About Military Life?
Whether you're thinking of joining the military, looking for fitness and basic training tips, or keeping up with military life and benefits, Military.com has you covered. Subscribe to Military.com to have military news, updates and resources delivered directly to your inbox.
© Copyright 2020 Military.com. All rights reserved. This material may not be published, broadcast, rewritten or redistributed.