Friday Favorite: Tough Army CFT Prep Workout – Topped Off with a Murph!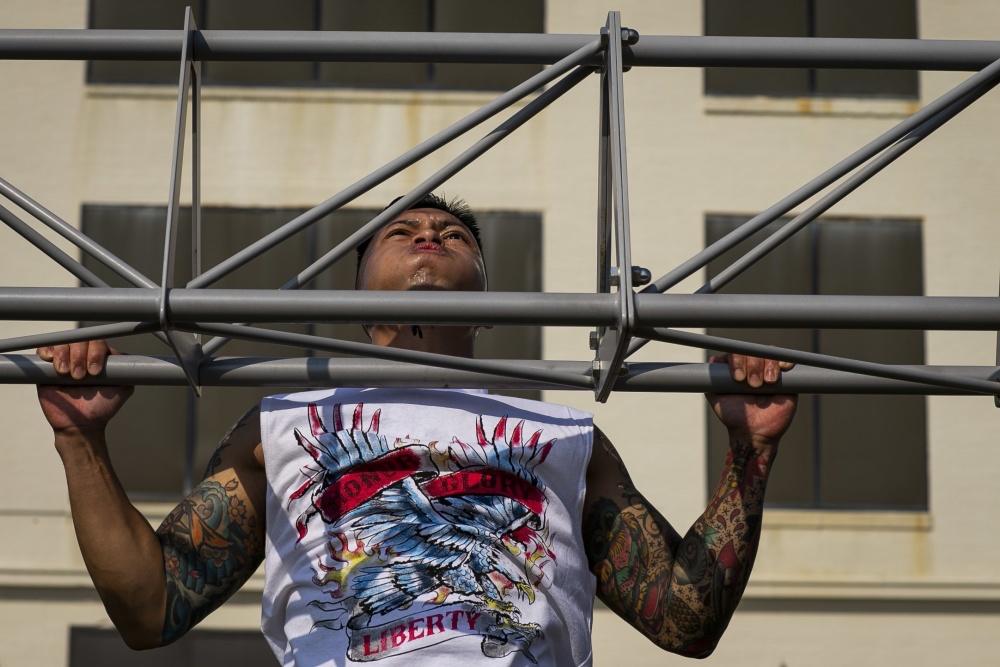 Here is a workout that will challenge most tactical athletes. It is a more advanced training program and this workout will take 90-120 minutes to complete — if you can complete it.
We all know what the Murph Workout is and as we honor the fallen special operators of Operation Red Wing and LT Michael Murphy, we topped off the workout with a special tribute section.
This workout will help you by adding in exercises of the Army Combat Fitness Test, which are due to roll out Army-wide in 2020.
Army Combat Fitness Test (2020)
| | |
| --- | --- |
| Trap Bar Deadlift | 1-2 times bodyweight (1-5 reps) |
| Hand Release Push-Ups | Push-up — but in down position lift hands off ground. Max 2 minutes |
| Leg Tuck | Hanging knee-ups from pull-up bar, bring knees to elbow (alternating grip) – New option: If you fail to do 1 leg tuck, you can still pass by doing a 2 minute plank pose. |
| Standing Power Throw | Throw medicine ball over head (backward) as far as you can |
| 250-meter Sprint/Drag/Carry | All events are 25 meters out and back for time: (1) sprint, (2) 100-pound sled drag, (3) sprint, (4) two 40-pound kettlebell carry, and (5) sprint. |
| 2-mile timed run | Still have to run — 2 miles fast pace |
This workout below is focused on working through some of the technique issues of the new Army Combat Fitness Test and mixing with goal pace running and other calisthenics. A workout arranged in the following fashion helps prepare a variety of people for more than just one fitness test or element of tactical fitness. The added calisthenics are still involved in many other selection PT test events throughout the military so keep practicing them all.
Repeat 3 times
Run 800 meters
Deadlift: 5-10 reps
Farmers Walk: 100m – run with 2 x 40-pound kettlebells for 4 x 25 meter shuttle runs or 2 x 50 meter shuttle runs.
Leg tucks 10 – the ability to do a pull-up or at least a half pull-up is required to perform a leg tuck. Practice this event along with pull-ups to help your grip, hanging and half pull-up muscles to perform the exercise.
Repeat 3 times
Run 1 mile
Pull-ups max: Get good at pull-ups. The skill will transfer to many activities (wall climbs, rope climbs, leg tucks, etc.)
HR Pushups: 1 minute. (HR) hand release and form T by extending arms out each rep.
Sit Ups or plank: 1 minute. Depending what will be required on your future fitness tests, practice either or both.
Squats: 1 minute. Add in some high-rep squats sets. Keep track of total numbers.
Finish total repetitions of Murph based on what you have left from above totals. One hundred pull-ups, 200 push-ups, and 300 squats for the calisthenics and the technique repetitions of the ACFT event are the goals of this workout.
You will most likely need to add in a few more sets of calisthenics after you are done with the 3 rounds of the above circuits. See if you can complete the remaining repetitions in as few sets as possible to speed up the workout to completion.
Workout totals:
4.5 miles of running
3 x 5-10 deadlifts
300 meters of farmers walk carries
Leg Tucks: 30 if you can or resort to 1 minute plank if you fail at 10 reps.
3 minutes of sit-ups or plank pose
100 pull-ups
200 push-ups
300 squats
Most people consider the Murph by itself to be too challenging and do not complete it or even attempt it. Have you ever asked yourself if you were ready for advanced level special ops selection programs? Believe me when I say, you will know that answer if you can do the Murph workout as a warmup or mixed into another workout (total reps/miles).
Put in your time to prepare for the long runs, rucks, PT sessions, days and nights of selection. If you can do that, you are well on your way to being in the type of conditioning to crush certain selection programs.
Stew Smith is a former Navy SEAL and fitness author certified as a Strength and Conditioning Specialist (CSCS) with the National Strength and Conditioning Association. Visit his Fitness eBook store if you're looking to start a workout program to create a healthy lifestyle. Send your fitness questions to stew@stewsmith.com.
Want to Learn More About Military Life?
Whether you're thinking of joining the military, looking for fitness and basic training tips, or keeping up with military life and benefits, Military.com has you covered. Subscribe to Military.com to have military news, updates and resources delivered directly to your inbox.
© Copyright 2020 Military.com. All rights reserved. This material may not be published, broadcast, rewritten or redistributed.