Army Still Deciding How Soon Soldiers Will Have to Take ACFT After Giving Birth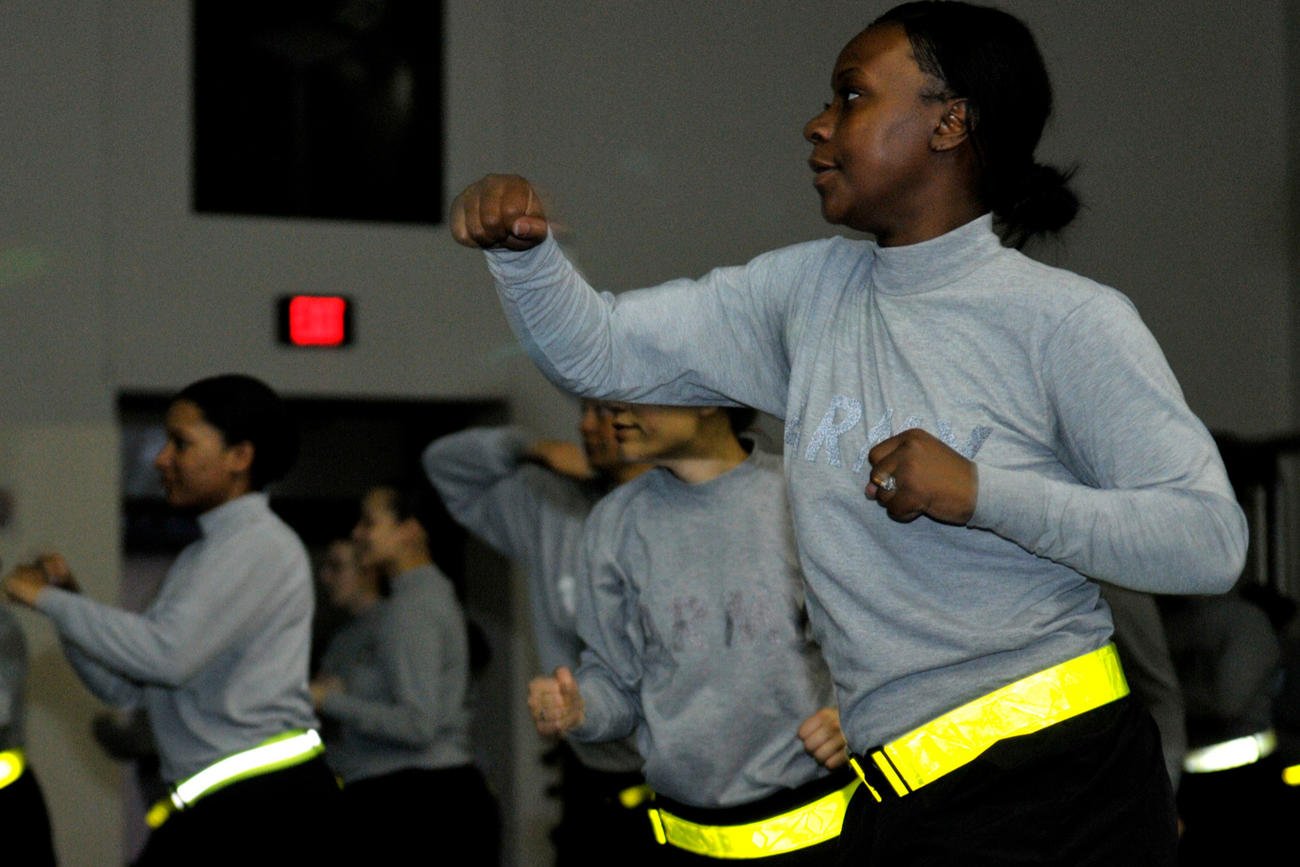 Soldiers are set to begin taking a version of the new Army Combat Fitness Test, or ACFT, in October, but the Army is developing guidelines to make sure female soldiers recovering from a pregnancy don't take the more challenging test too soon.
Sergeant Major of the Army Michael Grinston took part in a special Facebook Live panel this week to answer questions from soldiers about the service's recent announcement that the ACFT 2.0 will replace the current Army Physical Fitness Test, or APFT, on Oct. 1.
Read Next: Navy Won't Reinstate Crozier, Fires 1-Star Over Poor Decision Making
Part of the live session dealt with questions about an Army postpartum fitness policy that was promised eight months ago and service research on effects of pregnancy on the body in terms of meeting new fitness requirements.
Grinston said that the coronavirus pandemic has caused a "delay in everything."
"We are definitely going to look at the postpartum [policy]," Grinston said. "Is it six months? Is it nine months? … we still don't know, because we needed more data."
The Army suspended all physical fitness tests in late March to prevent the spread of COVID-19. The virus prevented many soldiers from preparing and practicing the six events of the ACFT to build fitness levels above the APFT.
But instead of delaying the implementation of the new fitness test, the Army instead will make the ACFT 2.0 the next test of record after Oct. 1. The modified version still consists of six events — the maximum deadlift; standing power throw; hand-release push-ups; spring, drag and carry; leg tuck; and two-mile run. But the Army has added a temporary, alternative event for soldiers unable to pass the leg tuck.
The alternate event will require a soldier to perform a plank exercise for a minimum of two minutes after attempting the leg tuck.
Command Sgt. Maj. Jamila Smith, the CSM for the Army's Military District of Washington, said she can identify with concerns some female soldiers have about being expected to take the new ACFT after having a baby.
"After 22 years in the Army and three kids I have been there," she said. "I have been that PT stud but after having that baby I had to start over from the bottom and work my way back up."
Smith said after the birth of one of her children, she tried to train for the current APFT too soon and damaged the incision from her Caesarean section.
"I actually attempted it too early and I actually reopened my C-section and had to go back and get it done because I didn't check with my medical provider before I decided to start exercising again, so it's extremely important," Smith said.
Maj. Gen. Maria Gervais said the Army will likely have to treat every female soldier in postpartum recovery differently.
"I think one of the things that is important is to understand is every woman is different and as they go through a pregnancy and postpartum, we all handle it differently and of course we will all be guided by our medical professionals as we come through the experience," said Gervais, who serves as the director of Army Futures Command's Synthetic Training Environment Cross-Functional Team.
Active-duty soldiers were scheduled to take ACFT as a diagnostic test on two separate occasions, six months apart. The pandemic prevented the second test, which had been scheduled for April, so Army officials don't have the volume of scores needed to evaluate the fitness of the force and finalize policies on postpartum fitness and other issues, Army officials said.
"What we needed was a million samples in order to make an assessment on, do we have the postpartum amount of time right. So yes, we are still looking at it," Grinston said.
Soldiers will begin taking ACFT 2.0 after Oct. 1, but the scores will not count against them professionally until March 2022, Grinston said, adding that the idea is to collect scores to build a database that fitness officials can analyze.
Gervais said the data will help the Army drive the ACFT postpartum policy "but the circumstances and what the medical professionals say in terms of the individual and where they are will be will be the conditions that will actually allow the individual to actually execute the ACFT."
Sometimes the Army "wants a one-size fits all, and it doesn't work," Grinston said.
"If the doctor says, 'you need more time,' most of the time … we tend to listen," Grinston said.
— Matthew Cox can be reached at matthew.cox@military.com.
Related: In Change, Army Says ACFT Scores Won't Count Against Soldiers Until 2022
© Copyright 2020 Military.com. All rights reserved. This material may not be published, broadcast, rewritten or redistributed.